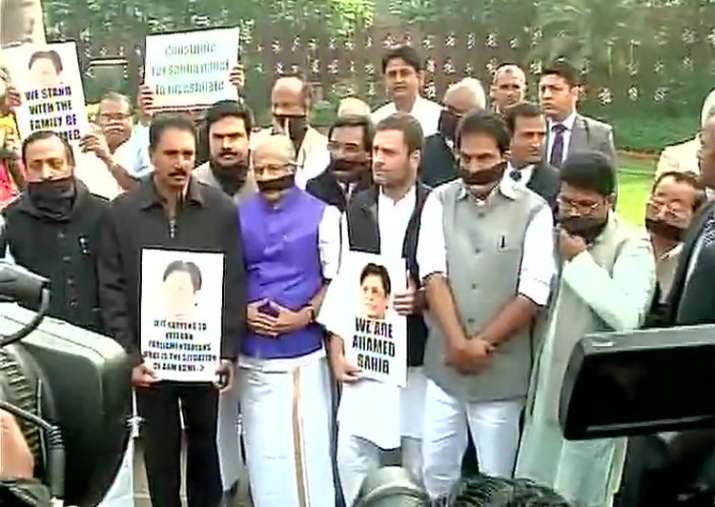 New Delhi: Days after the death of IUML leader and Kerala MP E Ahamed, the Congress party today upped its ante against the government accusing it of deliberately hushing up the news of the leader's death ahead of the presentation of the Union Budget on February 1.
Armed with placards reading 'We are Ahamed Sahib', Congress MPs led by Rahul Gandhi today sought a Parliamentary probe into the matter.
Alleging that the Centre deliberately delayed the announcement of the death of Ahamed, who collapsed in the Parliament on January 31, the Congress MPs also staged a protest in the Parliament complex, accusing the Modi-led government of keeping secrecy over the death of the leader.
Former Union minister and Indian Union Muslim League leader Ahamed was declared dead hours before Finance Minister Arun Jaitley presented the Union Budget in Parliament on February 1.
The opposition alleges that Ahamed died a day earlier but the Modi-led government kept the news under wraps to ensure that the budget presentation was not disrupted.
"Ahamed was unnecessarily kept on life support when he had already expired. They wanted to hide this fact, they hushed up his death. That is why we are demanding a Parliamentary Committee to be formed to probe the matter," Congress leader Mallikarjun Kharge told the media.
"Ahamed was one of the most respected figures in Parliament. If this government has no respect for such a person, then what can be said. Only a Parliamentary probe can bring out the truth," he added.
Opposition parties also demonstrated inside Parliament over the issue, leading to the Lok Sabha's adjournment till noon.
(With IANS Inputs)