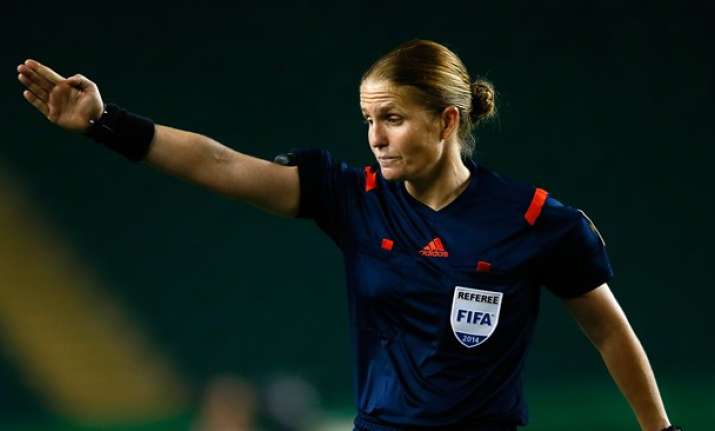 For Esther Stabuli, who became the first woman referee in 16 years to officiate in a FIFA male competition, what counts at the end of the day is a performance on the pitch. Esther broke a 16-year-old jinx when she officiated in the Japan-New Caledonia FIFA U-17 World Cup match.
A Swiss school teacher and a rising star in refereeing circles, Esther made a little bit of history alongside New Caledonia, who won their first-ever point at a FIFA event by eking out the 1-1 draw against Japan on October 14. 
"There is not a big difference in whether it was a male or female referee, it is just the performance that counts," Esther was quoted saying on the FIFA website. 
"It was a match like any other one. Later on maybe there will be more emotions, or I will realise it was something special, but before I really tried to prepare like it was a normal match and do my best." 
Sixteen years ago, I'm Eunju from the Korea Republic became the first woman to officiate in a men's match at a FIFA tournament when she took charge of the U-17 World Cup match between France and USA at Trinidad and Tobago 2001. 
Esther was showered with praise from both Japanese coach Yoshiro Moriyama and New Caledonia's Dominique Wacalie. 
"It was really nice that they liked me as a referee, and that they just looked at me like a normal referee," Esther said. 
It was part of a journey both for the veteran of the FIFA Women's World Cup Canada 2015 and for FIFA's Refereeing Department, which has been working to train men's and women's referees in the same structure for quite some time. 
This joint preparation project began in 2016 as part of the quest by the FIFA Referee Committee. 
The appointment of Esther and the inclusion of six other women's referees at India, who worked as fourth officials, is a fresh and exciting highlight in that quest. 
The referees came from every confederation: Ri Hyang Ok (PRK), Gladys Lengwe (ZAM), Carol Anne Chenard (CAN), Claudia Umpierrez (URU), Anna-Marie Keighley (NZL), Kateryna Monzul (UKR).