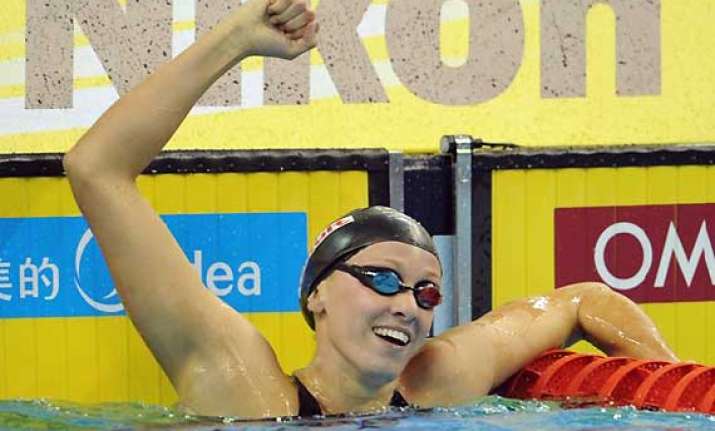 Santa Clara (California), June 12: Dana Vollmer won the 100-meter freestyle and the 100 butterfly, and Park Tae-hwan of South Korea earned titles in the 100 free and 400 free on Friday at Santa Clara Grand Prix.
Vollmer won the 100 free in 54.38 seconds, with Olympian Natalie Coughlin second at 54.77. Brittany Elmsie of Australia was third at 54.89.
Vollmer came back later to win the 100 fly in a meet record time of 57.03. Coughlin took second again at 58.44. Jasmine Tosky was third at 59.63. Britain's Ellen Gandy finished 11th, missing the championship final by two spots.
Park surged to the lead in the final 25 meters to win the 100 free in 48.85. Anthony Ervin, making a comeback after 12 years, touched second at 49.95. Aaron Wayne was third at 50.04.
Park took the 400 free in 3 minutes, 44.96 seconds, with Ryan Napoleon of Australia second at 3:49.79. Canada's Ryan Cochrane was third in 3:50.56.
Park also won the 800 free on Thursday.
Caitlin Leverenz led all the way in winning the 200 breaststroke in 2:26.46. In the men's 200 breast, Olympic champion Kosuke Kitajima of Japan won in 2:13.24.
In the women's 400 free, Bronte Barratt of Australia won in 4:06.13.
Japan's Takuro Fuji won the 100 fly in 52.79.