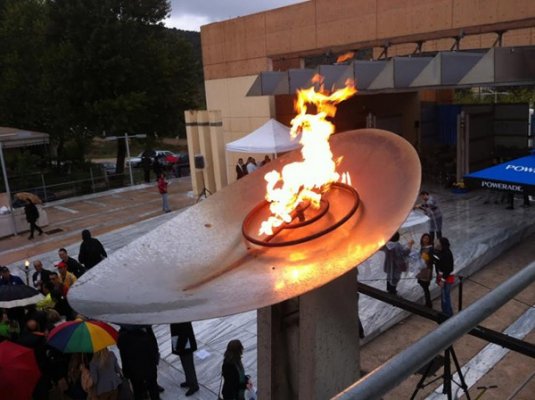 Athens: The Flame of the 32nd "Authentic" Athens Marathon to be held today was lit Saturday at a covered establishment on the starting point of the historical Marathon course due to extreme weather conditions.
In the lighting ceremony, attended by officials, athletes and visitors from across the globe, a group of torch bearers, including a Chinese representative, carried the Marathon Flame Torch into the Marathon venue and handed it over to the founder of the New York Marathon, George Hirsch, Xinhua reported Sunday.
George Hirsch along with the Kenyan long-distance runner Florence Kiplagat lit the altar with the Marathon Flame together and spread the message of friendship and cooperation among people worldwide.
"The Marathon race embodies the highest values that were born in this country and were spread to the whole humanity. Above all, it is a triumph of the free man," Greek deputy Minister for Culture Responsible for Sports Yannis Andrianos said addressing the ceremony.
The Athens Marathon race originates from the historic battle between Greeks and Persian forces in Marathon city 2,500 years ago.
According to legend, Pheidippides ran from the battlefield to Athens to announce the Greeks' victory and died of exhaustion.