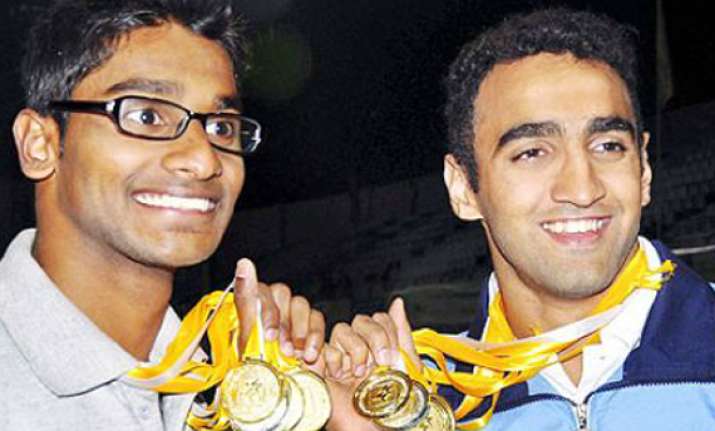 Ranchi, Nov 21: Karnataka swimmer Aaron Agnel D'Souza smashed his own national record in the 100m freestyle event in the 65th Senior National Aquatics Championships which ended on Sunday.

D'Souza proved he was a better bet than statemate Rehan Poncha to qualify for the 2012 London Olympics when he clocked 51:15 sec to won gold in men's 100m free style event.

The earlier mark was 51:43.

D'Souza bagged seven gold, helping Karnataka finished at the top with 23 yellow metals.

Karnataka men fiercely fought even among themselves with D'Souza shattering compatriot Poncha's hopes of getting a sixth gold and pushing him to the second place in men's 200m butterfly stroke with a timing of 02:02:22 as against Poncha's 02:04:38.

"I am happy with my performance here as I collected seven gold and a silver. Now my eyes are set on qualifying for London Olympics," D'Souza said.

"I was equal with Aaron in the first three laps, before falling behind. That is where fitness matters. But I know it is there in me and I will come back after a brief break," Poncha, who took five gold medals in the competition, said after settling for silver.

Olympic qualifier Sandeep Sejwal of RSPB improved upon his own national record in his men's 100m breast stroke event rewriting it with a timing of 01:01:97.

"It's the best timing without suit ... There will be no rest for me, I will continue training till the London Olympics," Sejwal, who bagged four gold medals in the competition, said.

Karnataka's Saurabh Sangvekar took his fifth gold -- three individual and two in relay -- when he returned a national record timing of 15:51:10 in the 1500m freestyle event.

M Raghavi of Tamil Nadu set a national record of 01:18:55, erasing V Tejaswini's 01:18:66 set in 2006 in the 100m breast stroke.

Karnataka's Pooja Alva took her third gold after she won the women's 200m butterfly stroke posting 02:22:28, while fellow state-mate Surabhi Tipre finished first in the 100m freestyle clocking 01:00:28 way behind Shikha Tendon's 2003 national record of 00:58:91.

With a total of 43 medals -- 23 gold, 11 silver and nine bronze -- Karnataka emerged as the champion in the overall medal standing.

RSPB pushed the Police team to third place bagging 18 medals -- five gold, seven silver and six bronze.

The Police team finished third with five gold, five silver and three bronze while Tamil Nadu secured three gold medals, two silver and four bronze medals to finish at fourth position.