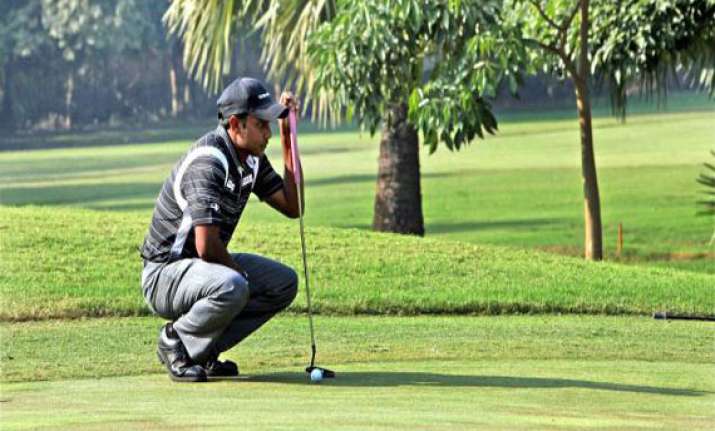 Nusajaya(Malaysia),Dec 13: SSP Chowrasia played 17 great holes to get to seven-under before giving back two shots on the very last hole at the Iskandar Johor Open on Thursday.
Chowrasia was still very much in frame at five-under and in tied fourth place in the clubhouse as rain played spoilsport on the opening day at the Horizon Hills Golf and Country Club.
Chowrasia was one of the only 11 groups to have finished their first round, while three other Indians, Digvijay Singh (four-under through 16), Shiv Kapur (three-under through 16) an Jyoti Randhawa (three-under through 17) were quite close to completing their rounds.
Ajeetesh Sandhu and Himmat Rai were one-over after four holes, while Gaganjeet Bhullar had played just one hole for par and Anirban Lahiri was yet to complete a hole.
Daniel Chopra shot a fine four-under 68 at the event where he was second last year.
Asian Tour rookie David Lipsky of the United States was leading at eight-under through 16 holes and he was sitting on a two-footer for another birdie to go to nine-under before play was abandoned due to inclement weather today.
Australia's Unho Park posted a flawless 65 to take second place while Korean-American Kevin Na signed for a 66 to take third place.
Heavy thunderstorms and lightening threats forced play to be suspended at 1.34pm and with heavy rains showing no sign of letting up throughout the afternoon, 84 players will have to return at 7.15am tomorrow to resume their round.
Chowrasia, who has not had a top-10 finish since Hero Indian Open last year, had mixed feeling about his round, which looked like a scorching one when he was five-under through seven and turned in six-under. He was then seven-under through 11 holes.
This year he has finished 11th at the Scottish Open and 15th at BMW PGA Championships in Europe.
"If you leave out the second shot on the 18th, it was a superb day. It was a dream start with five birdies in six holes. On the front nine, it seemed I just could not miss anything. Long putts (20 feet on fourth) and short putts (inside five feet) were all going in," Chowrasia said.
He maintained that he has been playing well enough but the results have not been coming.
"Last week also I played well but made mistake on two holes and that proved costly."
Chowrasia had a mix of long and short putts. He birdied the first and fourth from 15 and 20 feet and the 11th was a 10-footer. Most others were inside five feet.
"I missed a couple of other birdies like the 15th from five feet and the putt just went past the pin. With the ground so soft because of so much rain, we again had preferred lies and that meant the scoring will be low," he added.
On the 13th, he went into the left rough and chipped out just short of green but then missed a five-foot par. On the 18th was the cruel blow.
"I went into left rough but had a decent lie. But I hooked the shot and could not find to the left of the green went into the waste land. Second ball on green 10 feet but missed the putt. So that was disappointing."