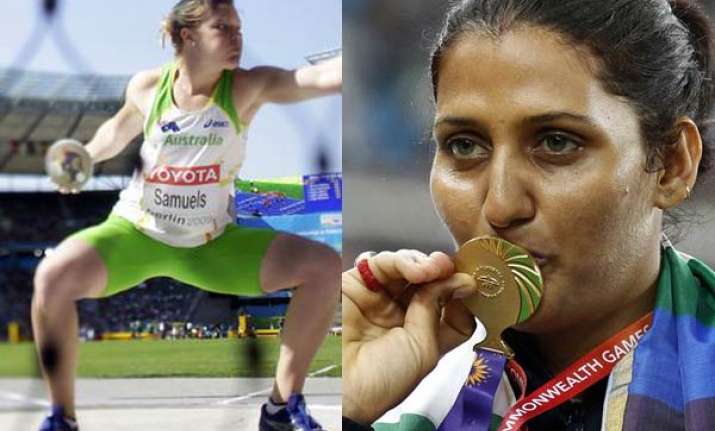 Australian world champion Dani Samuels, who had pulled out of Commonwealth Games Delhi, citing security and health reasons, has challenged India's discus throw gold medallist Krishna Poonia to a duel in the event, Australian media reported.
"A sponsor has offered $ 20,000 winner-takes-all, making it the biggest cash prize for a discus event in the world. The prestigious Diamond League offers $ 10,000 prize money, well we have doubled that to give Poona her shot at the champ", said Samuels' coach Danny Knowles. 
On Monday, Krishna's husband and coach Virendra Poonia said they have not been contacted for such a contest so far but are ready for it frovided the Amatuer Athletic Federation of India agrees to it.  
"I am just hearing from journalists. But we are ready if such a contest is happening", Poonia said. 
Australian media reported that Dani Samuels was hurt by Poonia's pre-Games comment that she had opted out because of "poor form" and she now wants a "revenge match". 
"We are leaving for NIS Patiala to train for next month's Asian Games. We have to take permission from AAFI if such a proposal for a contest is there", Virendra Poonia said. 
"Krishna had beaten Samuels at a contest in Salinas, California, US in 2008. So we are ready for such a contest", Krishna's husband said. 
Australian media reported that the Sydney Olympic Park's world-class athletic centre would host the contest. Samuels' coach sais he would hire an agent to arrange Indian television coverage of the duel. 
Krishna Poonia's throw of 61.51 metre not only made her the first Indian track-and-field to win a Commonwealth gold medal in 52 years but she also became the first Indian woman to win a CWG gold in athletics. Poonia's personal best is 63.69 metres which she achieved in April this year. Samuels' best is 65.84 metres which she threw in February this year. PTI