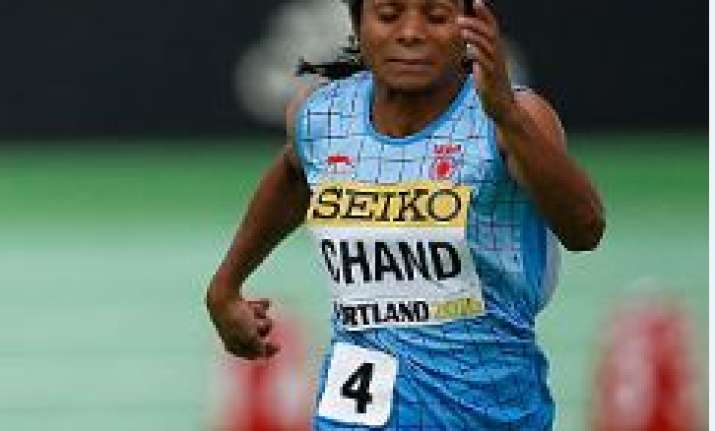 Contrary to her tough exterior while dealing with matters relating to a sensitive gender case, Indian sprinter Dutee Chand is living under a "constant fear" that a ban could be around the corner. 
She fears that she could be banned under a controversial policy of the international athletics federation and her career could end abruptly. 
Under the Hyperandrogenism policy of the International Association of Athletics Federations, female athletes with high levels of naturally producing testosterone are not allowed to compete on the ground that they have an unfair advantage over their peers. 
Dutee was banned by the Athletics Federation of India in 2014 under this policy but she challenged this at the Court of Arbitration for Sports in Lausanne, Switzerland. 
In July 2015, the CAS overturned the AFI ban and suspended the IAAF's hyperandrogenism policy for two years. The world's top sports tribunal said that the policy will be declared null and void if the IAAF does not produce within two years conclusive evidence that female athletes with high levels of naturally producing testosterone have an unfair advantage over their peers. 
Dutee was allowed to compete for both at the national and international events during those two years. But her future again came under a cloud after the IAAF decided last month to submit fresh evidence at the CAS in support of its policy of barring female athletes who produced natural testosterone (male hormones) above permissible range from taking part in competitions. 
The CAS, on July 27, suspended the controversial policy of the IAAF for another two months till September and Dutee was allowed to participate in the ongoing World Championships. 
She did not get an automatic berth as she could not touch the qualifying standard of 11.2 secs but got a late quota entry as the targeted number of 56 in the women's 100m dash was not reached. 
"There is tremendous pressure on me because of the case going on in CAS. I am not being able to focus on my training because of that case," Dutee told PTI after she crashed out of the 100m dash in the first round. 
"I was thinking if this case comes back, whether I will be able to run again or not. I was thinking that I can be banned or something like that can happen. I was always under the constant fear that I can be banned and then how I will I run. Despite training so hard throughout the year, what is the use if I am banned." 
The 21-year-old Odisha girl finished sixth in heat number five of the women's 100m first round, clocking a below-par 12.07secs. 
Her performance was well below her season's best of 11.30 seconds though the track was a bit damp as the Olympic Stadium was lashed by rain during the women's 100m first round and the temperature also dropped below 20 degree Celsius. She finished 38th overall among 47 who competed in the event. 
"But I have got the chance to run at such a big event and in front of such a big crowd. The whole of India is watching on television and supporting me. I feel happy about representing the country." 
Asked further about her mental state while facing this 'gender' issue, she said, "There was to be a hearing on July 24 at the CAS. I was really broken during the Asian Championships (July 6-9) in Bhubaneswar because of this case." 
South African women's 800m runner Caster Semenya was the other prominent athlete who has faced intense scrutiny under this policy of the IAAF. 
Asked if she had ever spoken to Semenya, Dutee said, "I had a chat with her at Rio Olympics and she told me to remain strong. She told me to keep running." 
She said, "Let us not get worried about what has happened and what others think of us. This (they're having more naturally producing testosterone) is given by God and we should accept that fact.