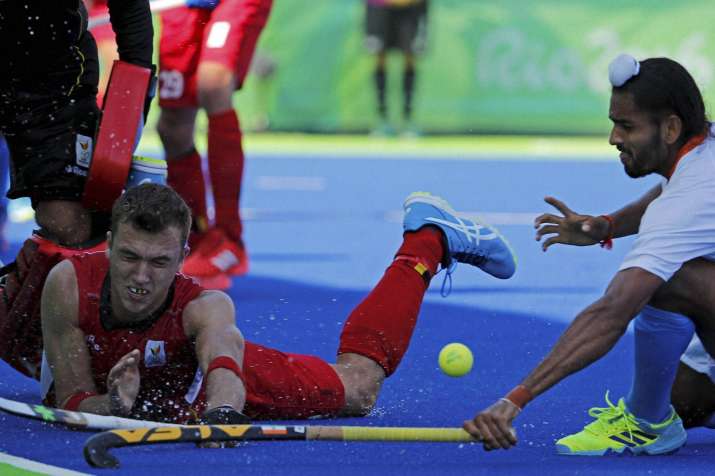 Eight-time gold medallist, India, today blew away a great opportunity to create history after a hiatus of 36 years to climb the medal podium as it squandered a one goal advantage to go down 1-3 to Belgium in the quarterfinals and crashed out of the men's hockey competition of the Rio Olympics.
On the other hand, Belgium scripted history as they progressed to the semi-finals of the Olympics after 96 years.
India took the lead through a fine field effort from Akashdeep Singh (15th minute) before Belgium pumped in three field goals from Sebastien Dockier (34th, 45th) and Tom Boon (50th) to dash India's hopes of their first medal after the gold in 1980 at Moscow.
Having topped Pool A, Belgium were the favourites to win the encounter and they played like champions dominating the proceedings for most part of the game barring a few minutes in the second quarter after India took the lead late in the first quarter.
India, on the other hand, looked completely out of sorts as they played catch-up hockey.
The forward line cut a sorry figure as they hardly created any chances which could be gauged from the fact that India failed to earn a single penalty corner in the entire 60 minutes.
The defence too found it tough to keep check of the rampaging Belgium forwardline, who mounted relentless attacks on the Indian goal.
With Belgium strikers on full press, India adopted a defence approach and relied more on counter attacks.
Belgium had the first shot at goal in the 13th minute when a try by Dockier, their best player of the day, was saved by Indian goalkeeper PR Sreejesh.
But India broke the deadlock in the final minute of the first quarter against the run of play through Akashdeep who got a deft deflection to a Manpreet Singh pass inside the circle to go into the break on a high.
Leading 1-0, India made a composed start in the second quarter and controlled the game for a brief period.
In this small passage of time India created two good scoring chances.
In the 22nd minute, Ramandeep's perfect lob found SV Sunil on the left flank but his cross was just out of reach of Nikkin Thimmaiah.
Sunil was again in the thick of action when his perfect cross found an unmarked Akashdeep inside the circle but his reverse hit went just wide.
(With PTI inputs)