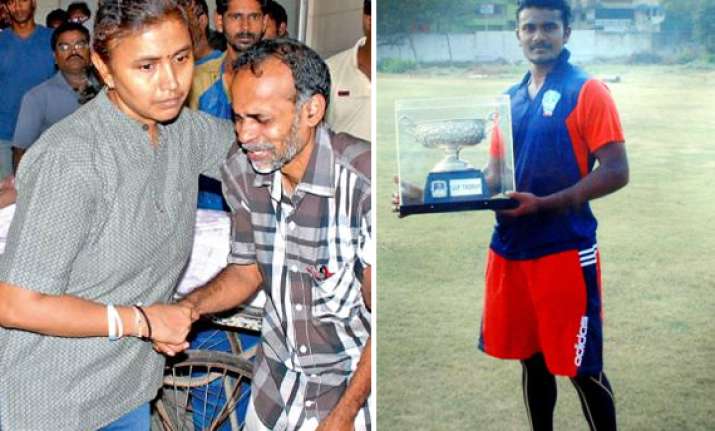 Chennai, Jun 12:
P K Dharma, a Tamil Nadu cricketer, died at the age of 20 here on Sunday afternoon. He was found hanging inside his house and police suspect this to be a case of suicide. His body was was handed over to his parents after post-mortem.
Kodambakkam police said Dharma's mother had called his phone around noon and he had answered, but an hour later he didn't respond to another call.
His parents reached home around 2.30 p.m. after attending a relative's funeral at Pozhichalur.
They opened the house with a spare key and found him hanging from a hook in the ceiling with a dupatta around his neck.
They rushed Dharma to a private hospital where doctors pronounced him as brought dead. There was no suicide note, according to the police.
Dharma took the extreme step after he failed to shine in the first division final cricket match held on June 7, 8 and 9 at the Chidambaram Stadium here, police said.
The 20-year-old cricketer who represented Tamil Nadu was an all-rounder at the Globe Trotters Cricket Club.
Dharma represented the club in the final for the Raja of Palayampatti Shield against Vijay CC, but failed to shine. "He had a good run last season but his recent performance was average. In the recent game, he got only one wicket," said a senior coach.
Following a complaint lodged by Dharma's father, Pandian, Kodambakkam police registered a case of unnatural death.
However, local cricketers and some coaches felt that Dharma couldn't have committed suicide because of merely losing a tournament.
Following the post-mortem, Dharma's body was taken to a hospital in Porur. Some of his relatives residing overseas are expected to arrive following which the last rites will be performed.
Former India player and Globe Trotters captain Sridharan Sriram described Dharma as a promising youngster who turned into a fine allrounder.
"We didn't know much about his personal life, but this appears to be an extreme step. It's a sad moment for us all", he added.
Says former TN batsman M. Senthilnathan, who is the Globe Trotters coach : "I have seen his development over the past five or six years. In these days of
IPL
and the opportunity that it offers to domestic cricketers, I was expecting Dharma to make a mark for himself."
Dharma made his List A debut in February 2011 and made it to the limited-overs team after an injury to L Balaji.
"I was injured and he replaced me," Balaji, who led Tamil Nadu in the Ranji Trophy last season, said.
"I haven't played alongside him but from whatever I have seen of him, the boy had promise."
TNCA secretary Kasi Viswanathan said: "He was an upcoming player, this is very unfortunate and a loss to Tamil Nadu cricket,"