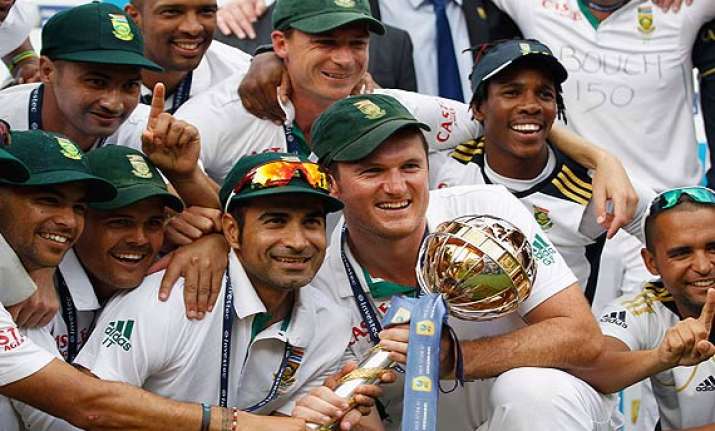 Dubai :Cricket South Africa (CSA) Tuesday received $475,000 in recognition of their side finishing at the top of the ICC Test team rankings at the annual April 1 cut-off date.
ICC chief executive David Richardson presented the cheque to his CSA counterpart Haroon Lorgat, who received it on behalf of the side that topped the Test rankings for the second successive year.
South Africa have been holding the No.1 Test spot since August 2012 and are the fourth side after Australia, India and England to achieve this distinction. While South Africa finished on top, Australia claimed second place and won $370,000 while India and England received $265,000 and $160,000 for finishing third and fourth, respectively.
"I congratulate South Africa for topping the rankings for the second successive year in our pinnacle format. To retain the top Test spot in a season that saw some very interesting, competitive and high-profile series, is an achievement to be proud of," Richardson said.
"With the top-8 Test sides closely matched and every side aiming to claim the coveted No.1 position, I'm looking forward to another exciting, challenging and competitive season which will go on to strengthen Test cricket's reputation as the most enduring and respected format."
South Africa also retain the mace which is presented to the No.1 side.
"I am truly honoured and humbled to receive the ICC Test prize money not just on behalf of the players and team management but on behalf of all South Africans. The players appreciate the enormous privilege of representing our country and taking on the responsibility that goes with it," Lorgat said.
In 2015, the total prize money will be increased to $1.34 million which will be distributed to the teams that finish in the top-4. The top side will receive $500,000, followed by $390,000, $280,000 and $170,000 to the sides that will finish second, third and fourth, respectively.