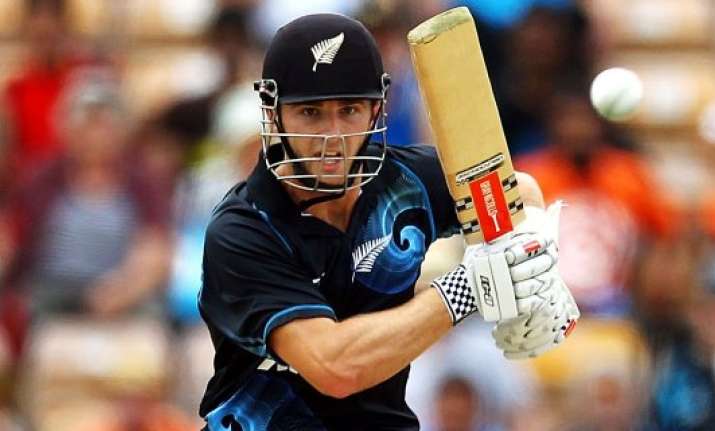 Abu Dhabi, United Arab Emirates: Kane Williamson slogged 123 and became the youngest New Zealand captain to score a limited-overs century as they made a challenging 299-5 against Pakistan in the fourth one-day international on Wednesday.
The 24-year-old Williamson, standing in as skipper for the rested Brendon McCullum, won his first toss of the series and hit 12 fours off 105 balls to push New Zealand's bid to level the five-match series.
Martin Guptill (58) and Dean Brownlie (42) provided a strong start of 81 off 100 balls, then Williamson took charge.
He led the surge of 91 runs in the last 10 overs, and was bowled by a Mohammad Irfan (2-53) yorker off the last ball of the innings.
The Pakistan Cricket Board went ahead with the match a day after 148 people were killed — most of them children — by the Taliban at a military-run school in the northwest city of Peshawar.
The PCB initially wanted to postpone the match, but as terrorists have forced them to play home games overseas since 2009, they said "if we allow terrorists to disrupt our matches abroad, then all will be lost."
All proceeds from the match will go to families of the martyred, and toward rebuilding the school. Both teams wore black armbands and observed a minute of silence, and Pakistan captain Shahid Afridi said they were playing for the families of the students and teachers killed.
After the platform set by openers Guptill and Brownlie, Guptill and Williamson combined for 44.
Left-arm fast bowler Sohail Tanvir found the outside edge of Guptill in the 25th over, but misjudged a catch at deep midwicket which could have ended Ross Taylor's (26) innings at 7.
Taylor added 63 runs with Williamson before Irfan induced an outside edge of Taylor in his return spell.
Corey Anderson (23) also holed out in the deep in a bid to up the scoring rate.
Williamson converted his seventh fifty in his last nine ODIs into his fourth hundred when he pulled Irfan to the midwicket boundary. He dominated the 72-run, fifth-wicket stand off 47 balls with Tom Latham to the end of the innings.