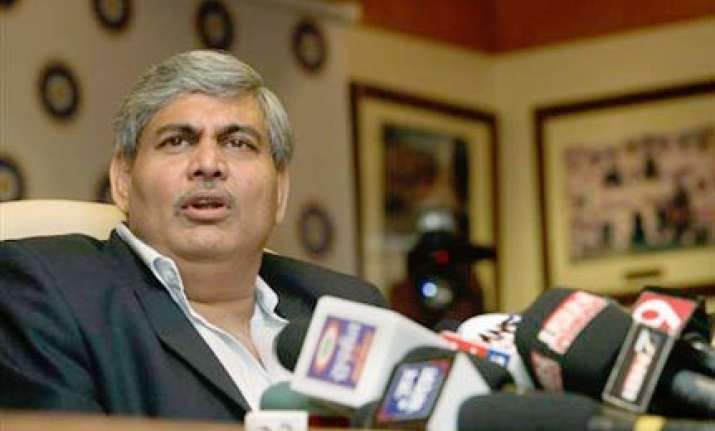 Nagpur, Oct 27 (PTI) In a respite for the squabbling Kochi IPL consortium, the BCCI today gave the franchise 30 more days to resolve its disputes or risk termination from the high-profile league.
The IPL Governing Council, after an emergency meeting to discuss the issue, served a 30-day termination notice to the franchise to sort out its differences failing which it would stand cancelled.
"The Governing Council received replies from two parties, the Rendezvous group and the other co-owners, and they both felt that the dispute still exists," BCCI President Shashank Manohar told reporters after the meeting.
"The Governing Council has invoked clause 12 (1) and given them a 30 days notice that in case they don't remedy these disputes in the 30 days, the franchise would stand cancelled on the 31st day," he said.
The emergency meeting was convened by Manohar due to the lingering dispute over who will run the affairs of the franchise, bought from the Cricket Board for USD 333 million, once the joint venture was formed.
 The investors in the Kochi consortium include corporate firms Anchor Earth, Parinee Developers, Rosy Blue and Film Wave - who hold 75 per cent of the equity.
The remaining 25 per cent has been given to the family of Gaekwads - Shailendra, his brother Ravi and their parents plus a few others, all part of the group of promoters - Rendezvous Sports World - as free equity for services rendered in successfully bidding for the franchise.
 Asked why Kochi had been given more time after two other franchises -- Rajasthan Royals and Kings XI Punjab -- were terminated over ownership issues, Manohar said both the cases were different from Kochi.
"This not an intermediary breach that has been committed like in the case of Rajasthan Royals and Kings XI Punjab so that is why they have been given 30 days time to remedy this," he explained.
"According to me the two cases are altogether are different. As far as Rajasthan Royals and Kings XI Punjab are concerned there was transfer of ownership but as far as Kochi is concerned there is no transfer of ownership therefore 30 days time for the agreement has been given," he said.
On what the BCCI thought of former Governing Council member and ex-India captain Sunil Gavaskar's name being linked to the Kochi franchise, Manohar said the matter was not Board's concern.
"What discussion took place between Mr Gavaskar and Mr (Satyajit) Gaekwad is known only to Mr Gavaskar and Mr Gaekwad, the BCCI does not know," he said. PTI