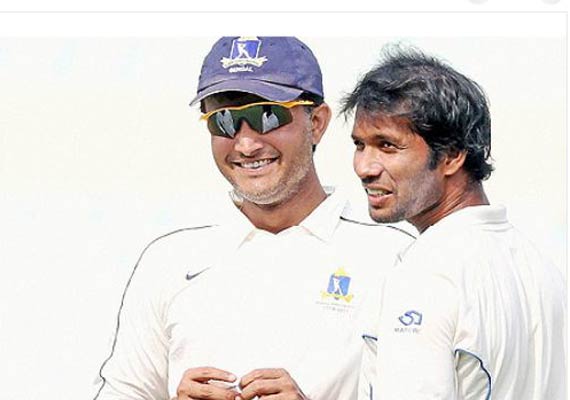 New Delhi, Dec 19: Former skipper Sourav Ganguly on Sunday revealed that Bengal pacer Ashok Dinda will fly to Australia as a cover for injured fast bowler Ishant Sharma, who has been ruled out of a three-day practice match starting in Canberra on Monday.

"Ashok Dinda will fly to Australia as a cover to Ishant in next 24 hours. My sources have confirmed this," Ganguly told Aaj Tak in a special show which also included 1983 world cup winning captain Kapil Dev.

"Dinda is India's best pace bowler right now and should have been on that plane to Australia in first place with rest of the squad," he said.

Ishant is recovering from injury in his left ankle which forced him to leave the field after bowling only 5.3 overs against Cricket Australia Chairman's XI on Thursday.

However, the team management sounded optimistic on Ishant's participation in the series opener from December 26.

"The doctor has advised him rest till Monday. So we would have a fresh look at him on Tuesday. But the work on him is going on and he's improving," said media manager GS Walia.

The lanky fast bowler did come with the rest of his teammates to Manuka Oval this morning but spent the entire duration either strolling at the ground or turning his arm over from a stationery position at the nets.

Ganguly said Ishant should not figure in the team if he is not 100 percent fit.

"This is a very long tour. If Ishant has pain in his ankle, then he should be rested for the first test. The final test of the series will be very crucial. You cannot play a bowler having even 50 per cent of fitness level. It will put immense pressure on the team like we saw in England where Zaheer broke down in the fist test at Lords and India never recovered," he said.

"The Indian team management, be it skipper or the selector, if he is touring along, have to take a decision immediately. If Ishant isn't fully fit, and has little chance of recovering, then he should be sent back home," he added.

The mystery surrounding Ishant has also irked Kapil. "What is the need to hide anything in this age when there is so much of media presence and everything is being watched so closely," Kapil said.

"Him bowling just 5.3 overs in the practice match is definitely worrisome. Good if he is given rest and time to get fit again but if his injury is serious then I am very worried about the Indian team's pace department," he added.