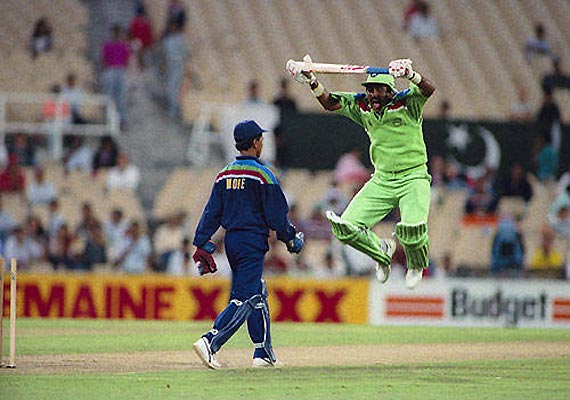 Wellington, July 31: Recalling the 1992 World Cup, India's 1983 World Cup winning captain Kapil Dev has said that his best memory from that particular edition was the league victory over eventual champions Pakistan.
India lost five matches and won two in 1992, including a 43-run drubbing they gave Pakistan in Sydney.
"India didn't play particularly well, but if you ask me I would say my best memory is we beat eventual winners Pakistan in a league match. It's not a positive memory for me, but to say we beat the team which held the trophy makes me feel better," said Kapil, who appeared as a player in 1992 and scored 161 runs and took nine wickets.
The other memory which has stuck in the legendary all-rounder's mind is the start of colour uniforms.
"The uniforms are my other memory. In the beginning, they looked odd. In the cricket world, we were used to playing in whites. Back then, the world was changing, television was changing and you needed people to see more colour. So, I think they did a great thing."
"Back then, people were calling it pyjama cricket, but I think if you look back, you have to change yourself with the time and I think the administrators did the right thing. Now you look at Cricket World Cup as colourful and that's because of 1992. It represents national pride and everybody has their own colours to identify themselves with and be proud," said Kapil, for whom the 1992 edition was the last World Cup.
Triumphant Pakistan captain Imran Khan said that winning the 1992 World Cup was the "biggest achievment" of his career.
Imran played a sterling role in the final against England, which Pakistan won by 22 runs. He scored a match-winning top score of 72 runs and also picked up a wicket.
"Winning the ICC Cricket World Cup 1992 was one of the biggest achievements of my cricketing career," he said.
"I rate the moments after the World Cup victory as the most pleasing and satisfying of my career as I had never seen the people of Pakistan so happy," said Imran.
Martin Crowe, who skippered New Zealand and won the Player of the Tournament award, believed it was New Zealand's best chance of winning the World Cup, but a tactical decision cost his side the tournament.
"I think it was the best opportunity in our history to win the World Cup. We scored 262 on a slow pitch (against Pakistan in semi-final), which we thought was a winning score. However, it was decided that I should not take the field so that I could be fit for the final that was to be played four days later. In hindsight, if I had stayed on the field, we could have defended that total."
"My injury killed it for us," said Crowe.
Co-hosts New Zealand proved the surprise packet of the tournament, winning their first seven games to finish on top of the table after the round robin.
They were defeated only twice in the tournament, both times by Pakistan, in their final group match and in the semi-final.