Follow us on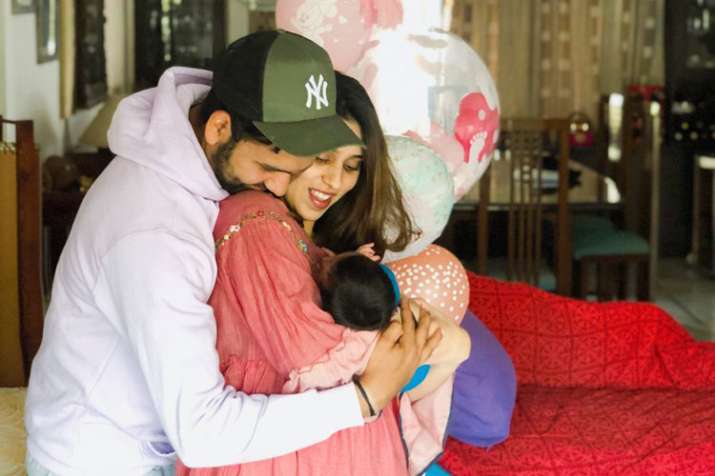 Rohit Sharma shared an adorable picture of him and his wife Ritika Sajdeh with their new-born baby on Sunday and also shared the name of their daughter.
Rohit uploaded the picture and used a few lines of Maroon 5's song 'Girls Like You' to caption it. The Team India ODI vice-captain also shared their daughter's name below -- Samaira.
This is is not the first picture of the newly born shared by him as he had uploaded a photo few days back as well.
Rohit took to Twitter to welcome his baby girl with a new year message on January 3rd -- "Well hello world! Let's all have a great 2019."
It was the very first time when he shared the image of his new-born on social media. The Mumbaikar tied the knot with Ritika Sajdeh on 13 December 2015. 
Rohit flew back to India to take a break from the ongoing fourth Test between India and Australia to see his baby girl. 
The 31-year old batsman scored a blistering half-century in the third Test match where India beat the hosts by 137 runs to take an unassailable lead of 2-1 in the four-match Test series. While he is expected to join back the team on January 8, where the Men in Blue will start preparing for the three-match ODI series.
Earlier, Rohit in a chat with former Australian skipper Michael Clarke said that he was eagerly waiting to become a father.
"I cannot wait to be a father; it is going to be a game-changing moment in our lives. I am eagerly awaiting the moment of becoming a father. It will be a moment to change our life," The Indian Express quoted Rohit as saying.
Rohit will join the the Indian squad for the upcoming ODI series on the 8th of January 2019, with the first match being played on 12th January at the SCG.