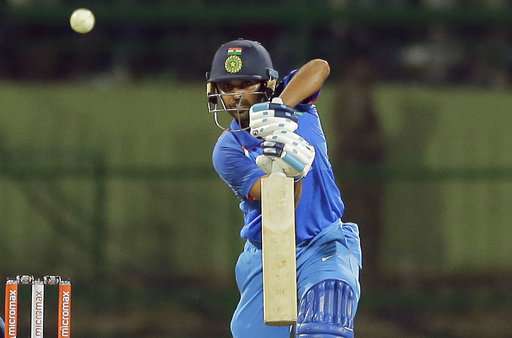 Mahendra Singh Dhoni's oodles of experience in pressure situations came in handy as he successfully anchored a tricky chase, guiding India to a three-wicket victory against Sri Lanka in the second ODI in Pallekele on Thursday. The former skipper scored a patient unbeaten 45 off 68 balls but more importantly mentored Bhuvneshwar Kumar (53 not out) as they added 100 runs for the eighth wicket to reach the revised victory target of 231 in 44.2 overs under Duckworth-Lewis method. India now take a 2-0 lead in the five-match series.  (MATCH SCORECARD)
HIGHLIGHTS FROM INDIA VS SRI LANKA 2ND ODI
00.05 IST: Virat Kohli: It was quite an exciting game of cricket. It gave us a tough test out there but was good to come through. Was good to see two 100-run stands in a 230 chase and then a collapse. Strange game but good that we came through. You want to give the other guys in the team a go too (on the batting reshuffle). We got out to good deliveries. Akila bowled an outstanding spell. Even batting at No.3, I would have still gotten out to that delivery. It's difficult when you haven't seen the guy but now we will be more careful. Credit to him; he capitalized on the hesitation because we were not reading him too well. He attacked the stumps.
23.58 IST: Upul Tharanga: Disappointed. We came very close and couldn't finish it. Milind and Kapu gave us a good start. Dhoni and Bhuvneshwar played well. Dananjaya bowled very well. We ha da few overs to go, that's why we kept him for the last few overs. Fielding and bowling has improved. Dananjaya and Milinda were brilliant.
23.53 IST: Akila Dananjaya wins Man-of-the-match award for his dream spell of 6/54 in 10 overs. "I use my variations and kept using it in the first eight overs. I had my wedding yesterday, and came back to the hotel in Kandy at 10pm.," says Dananjaya.
23.50 IST: As the saying goes - "It's never over, until it's over" was something we got to witness thereafter. Dhoni and Bhuvneshwar Kumar kept a calm head and countered through the turbulent tide. The latter in particular, was exceptional with his defense and aggression. He registered his maiden ODI fifty and recorded a 100-run stand for the 8th wicket which helped him bail his side out of an embarrassment. True to say that, the experiments failed miserably for India but they will take a leaf out of this extra ordinary effort from their No. 9. 
23.40 IST: What a victory for India this is. Something that they will cheer for a very long time. Not many would believe it if you tell them, India started the chase in a stunning manner with Rohit and Dhawan motoring along quite well. They raises 109 and it seemed like this match is heading towards one side. But, a young Akila Dananjaya changed the complexion of the game. He ran through the star-studded batting line-up and claimed a 6-fer in his first game against the Indians. From 109-0 to 131-7 was the collapse that the Indians had. There were literally on the mat to say the least.
23.37 IST: India (231/7) beat Sri Lanka (236/8) by 3 wickets (DLS) to take 2-0 lead in 5-match series. Bhuvneshwar 53*, Dhoni 45*, Dananjaya 6/54
23.32 IST: Maiden fifty for Bhuvneshwar in ODIs. What a knock this has been, especially with Dhoni at the other end. He will remember this for a very long time. He will remember this for a very long time. A raise of the bat from him and Kohli in the dressing room is all smiles. He cheers and Dhoni walks towards his partner to give a pat on the back. Well played, Bhuvi. Ball- Fuller outside off, driven through covers for a single. IND 226/7 in 43.3, need 5 runs to win 
23.23 IST: FOUR! Bhuvneshwar at it again! What an innings from him! Just 14 needed now! Bhuvi has played a gem here. Chameera looks to fire a yorker but instead slips out a full toss on the pads. Bhuvneshwar shuffles a touch and makes the most of this bait. Helps it down to fine leg for another boundary. IND 217/7 in 42 overs, need 14 in 30 balls
23.21 IST: FOUR! Bhuvneshwar, you beauty! He hits Chameera for a bounday towards fine leg. Sri Lanka have their hands on their heads. Back of a length delivery, it's a pacy delivery. Kumar gets inside the line and helps it fine down the leg side to pick up a boundary. Pressure straightaway on Sri Lanka.
23.19 IST: Five runs off Malinga's over! IND 206/7 in 41 overs
23.13 IST: FOUR! Bhuvneshwar hits another boundary off Dananjaya. Back-to-back boundaries! This is exceptional from Bhuvneshwar Kumar. He took the strike and has taken the main bowler on. Akila drops it short on middle, Kumar rocks back in a flash and dispatches it over mid-wicket for another boundary. This is now is highest ODI score. IND 201/7 in 40 overs, need 30 off 42 balls
23.12 IST: FOUR! Brave Bhuvneshwar gets on the back foot and cuts Dananjaya for a boundary! Dananjaya drops it short and outside off, Kumar rocks back and punches it through extra cover. He times it well which beats Malinga in the deep. Lovely from Bhuvi!
23.10 IST: Akila Dananjaya is back! He has two overs left. It will be interesting to see how India play him.
23.10 IST: India score three runs off Malinga's over. IND 192/739 overs
23.03 IST: SIX! Bhuvneshwar goes down and hits Siriwardana for a maximum over deep mid-wicket.
23.02 IST: Fifty-run stand comes up between Dhoni and Bhuvneshwar. What a vital stand it has been but the game is far from over yet and they need to keep their concentration. India need 50 runs off 60 balls now!
22.57 IST: India pick three runs off Siriwardana's over. IND 178/7 in 36 overs
22.55 IST: NOT OUT! Sri Lanka waste a review! Moment of luck riding India's way at the moment? Siriwardana lands it around leg, Kumar gets down to sweep but misses and is hit on the pads. A loud appeal from Milinda to which the umpire shakes his head. Sri Lanka take the review and replays shows it was in line but would have gone on to clip the leg pole. So, the umpire's call stays.
22.51 IST: Lucky, MS! That's so unfortunate for Sri Lanka. Length delivery on middle, Dhoni gets across to tuck it away but the ball goes off the pads and rolls back on the stumps. It hits its base, but much to Dhoni's delight the bails don't come off. They stay as it is. The Lankans can't believe it and so can't we!
22.45 IST: Fernando gives away just 4 runs, IND 168/7 in 33 overs
Vishwa Fernando comes back into the attack. 67 runs needed from 90 balls.
22.40 IST: Another tight over from the host, just a single from the over. IND 164/7 in 32 overs
Milinda Siriwardana is back on. Can he provide with the breakthrough?
22.37 IST: Just a single from Chameera's over. IND 163/7 in 31 overs
22.32 IST: WIDE! Third wide of the over! It's been a long over. Once hits the deck hard does Malinga but the angle is taking the ball down the leg side. More work for Dickwella behind the stumps.  IND 162/7 in 30 overs
22.26 IST: Good over from Chameera, just 3 runs from it. IND 156/7 in 29 overs
22.23 IST: Shortish outside off, Dhoni rocks back and pulls it fiercely through backward square leg. The man in the deep comes across to his right and makes a lovely stop to prevent a boundary.  IND 155/7 in 28.2 overs
Drinks Break!After the first drinks break, we saw Sri Lanka gather momentum and break the backbone of Indian batting. Will this break also see a change in momentum? INDIA NEED 78 OFF 114 BALLS WITH JUST 3 WICKETS IN HAND!
22.19 IST: Short and down the leg side, Dhoni mistimes his pull to fine leg for a single.  IND 153/7 in 28 overs
Lasith Malinga replaces Dananjaya!
22.14 IST: Full and tailing into the pads, clipped through mid-wicket for a brace.  150 comes up for India! IND 150/7 in 27 overs
Dushmantha Chameera is back on. A break for Siriwardana!
22.08 IST: Dananjaya bowls a leg spinner around off, Kumar looks to drive it across the line but gets an outside edge. 7 runs off the over, good one for India. IND 147/7 in 26 overs
21.54 IST: OUT! Dananjaya takes his 6th, removes Axar Patel for 6. 6-wicket haul for Dananjaya! Drifts it in from outside off. Patel leans ahead to defend but his bat is nowhere near the ball. He is beaten and gets pinged on the front pad. Akila starts running in celebration and then appeals a la Philander. The umpire obliges by raising his finger. India have lost the way from 109/0 to 131/7! What an interesting span of play we have witnessed, all thanks to the leggie Dananjaya. IND 131/7 in 21.5 overs, need 100 runs to win
21.43 IST: OUT! Dananjaya takes his 5th, removes Hardik Pandya for 0. Fifer for Akila Dananjaya! What a match he is having! It's his first game against India and he has rocked them hard. Bowls it slower through the air, inviting Pandya ahead. He dances down but the flight and away turn does him in. Dickwella behind the stumps gather the ball and has enough time to take the bails off. Hardik can't get back in his crease and now has to walk back dejected. 5 wickets in span of 13 balls from the leggie! He has just turned the game around. Unbelievable stuff, this! IND 121/6 in 19.3 overs, need 110 runs to win
21.35 IST: OUT! Dananjaya takes his 4th, removes KL Rahul for 4. What is going on here? Third wrong 'un and third bowled of the over! Flighted around off, spinning in, keeps a touch low as well. That's enough to sneak through the gap between Rahul's bat and pad and hit the stumps. He has turned the game upside down in a single over. Half the Indian side are back in the hut. IND 119/5 in 17.5 overs, need 112 runs to win
21.31 IST: OUT! Dananjaya takes his 3rd, removes Kohli for 4. Timber! Big, big wicket this! Once again it's the wrong 'un which does the trick for Akila. Tossed up fuller around off, spinning in, Kohli looks to flick it across the line but misses it completely and then sees the woodwork being rattled. IND 118/4 in 17.3 overs, need 113 runs to win
21.29 IST: OUT! Dananjaya removes Jadhav for 1. Wrong one does the trick for Dananjaya! Tossed up around off, Jadhav stays back to defend but the ball spins in sharply, beating him and knocks off the middle stump. Kedar is completely outfoxed with this wrong 'un and has to pay the price. He walks away, admiring the delivery. The experiment of promoting Jadhav up the order has failed. IND 114/3 in 17.1 overs, need 117 runs to win
21.25 IST: OUT! Siriwardana removes Dhawan for 49. Mathews has hung on to an absolute stunner! Slower through the air around leg, Dhawan kneels down to sweep but gets it off the toe end in the air behind square on the leg side. The ex-Lankan skipper at short fine leg, runs to his right and dives full stretch to grab the catch. That's a beauty of a catch and Dhawan misses out on his half century. Had he got that, it would have been a record 7 consecutive 50-plus scores against Sri Lanka! Both the openers are back in the dressing room! IND 113/2 in 16.3 overs, need 118 runs to win
KL Rahul is the new man in. He walks ahead of his skipper. Kohli had mentioned about experiments being made today and here's one for you all.
21.19 IST: OUT! IND 109/1 in 15.3 overs
21.18 IST: Rohit Sharma has been adjudged lbw! However, he has taken the review! Looks plumb though.
21.16 IST: SIX! Into the stands! Seeing the mid on fielder up in the circle, Dhawan decided to go after the bowler. He danced down the track and clobbered it over long on for a maximum. What a start to the over! IND 108/0 in 15.1 overs
21.15 IST: FOUR! Sharma has found the gap to perfection! Full and sliding in, Rohit gets down on one knee and sweeps it off the meat through long leg for a boundary. IND 102/0 in 15 overs
21.14 IST:  FIFTY for Rohit Sharma! Tossed up around middle, Sharma milks down to long on for a single. IND 97/0 in 14.4 overs
Milinda Siriwardana comes into the attack, he replaces Chameera..
21.11 IST: 5 runs came off Dananjaya's over. IND 94/0 in 14 overs 
Drinks break!
21.04 IST: FOUR! Short and is punished! Chameera has been guilty of being too short regularly. He once again drops it shorter around leg and Dhawan rocks back to pull it over mid-wicket for a boundary. Dushmanta has been taken apart today.  IND 88/0 in 13 overs 
20.59 IST: FOUR! Another boundary to end the over! Served slower through the air on middle and off. Dhawan dances down and with a superb wrist work flicks it wide of mid on for a boundary. IND 81/0 in 12 overs
Akila Dananjaya comes on to roll his arm.
20.55 IST: 7 runs from the over, IND 75/0 in 11 overs
20.53 IST: FOUR! That's been cracked away! Length delivery, angling away, Dhawan dances down and cuts it hard into the ground. It bounces over the leaping Mendis at point and races to the fence behind. IND 72/0 in 10.3 overs
20.51 IST: Mathews drifts onto the legs and is picked away square on the leg-side for a single by Dhawan. Four runs from the over. IND 68/0 in 10 overs
20.45 IST: SIX! Back-to-back biggies! Short and wide outside off, Sharma flashes and flashes hard at it. Gets it off the outer half and the ball sails flat over third man for half a dozen. This spoils Chameera's first over. 12 runs off it. IND 64/0 in 9 overs
20.44 IST: SIX! Innovation at his best! Good length delivery outside off, angling in, Rohit gets across and kneels down. Gets underneath the ball and scoops it high over fine leg. Such a great shot and he gets the deserved result in a maximum. The hand-eye co-ordination had to be spot on and it was from Sharma. IND 58/0 in 8.5 overs
Dushmantha Chameera comes into the attack now.
20.39 IST: FOUR! 50 comes up for India. Stand tall and deliver! Back of a length delivery outside off, Sharma rides the bounce and punches it solidly through cover-point for a boundary. India are cruising through at the moment. IND 52/0 in 7.3 overs
20.36 IST: FOUR! Well done, Dhawan! He picked up the slower one early. Waited for the in-dipping low full toss on the pads and then just flicked away through square leg for a boundary. IND 47/0 in 7 overs
20.32 IST: FOUR! Smashed it! Full outside off, Sharma's eyes lit up seeing that. He decides to go after it and does so with a handsome lofted drive over wide mid off for a boundary. He is just growing into the game. IND 43/0 in 6.2 overs
20.30 IST: A very good over from the former Sri Lankan skipper comes to an end. Just 2 came off it, IND 38/0 in 6 overs
Angelo Mathews comes on to bowl.
20.26 IST: 7 runs from Malinga's over. IND 36/0 in 5 overs
20.22 IST: FOUR! Superb placement! Full and wide outside off. Dhawan bends his knees and just guides it through backward point for a boundary. IND 33/0 in 4.1 overs
20.21 IST: FOUR! Brilliant shot from Rohit, he short-arm pulls this one in the vacant mid-wicket region for a boundary. Gets to his 8000 international runs with that. He has been such an important player for the Men in Blues in recent times. IND 29/0 in 4 overs
20.18 IST: FOUR! Length delivery from Fernando, angling in, Dhawan tucks it away nicely through backward square leg for a boundary. IND 24/0 in 3.3 overs
20.16 IST: Expensive over from Malinga, 10 runs came off it. IND 20/0 in 3 overs
20.15 IST: SIX! Just the flick of the wrists! That's a great pick-up shot from Rohit Sharma. He pounces on the fuller length delivery on middle and leg with an elegant flick over mid-wicket. It travels flat and straight into the stands there. This will get him going! IND 18/0 in 2.4 overs
20.11 IST: WIDE! Down the leg side again. Sharma once again tries to flick it away and sees the umpire spread his arms to signal wide. IND 11/0 in 2 overs
20.10 IST: Good over from the young Lankan pacer, just four runs from it. IND 10/0 in 2 overs
VISHWA FERNANDO to operate with the second new ball.
20.06 IST: Decent over for India, 6 runs came off it. IND 6/0 in 1 over
20.01 IST: FOUR! That made a solid sound! Good length delivery around off, Sharma stands tall and punches it through covers. That made a superb connection and it just raced away to the fence! IND 4/0 in 0.2 overs
19.59 IST: We are back for the chase. For this innings - Two bowlers can bowl a maximum of 10 overs while three bowlers can bowl a maximum of 9 overs. Powerplay 1 will be from 1-10, Powerplay 2 will be from 11-38 and the final Powerplay will be from 39-47. The in-form SHIKHAR DHAWAN will open with ROHIT SHARMA with LASITH MALINGA operating with the first new ball. A couple of slips in place for him. Here we go...
19.51 IST:  Sri Lankan players are out their in the middle and warming up.
19.40 IST: 
UPDATE: Play to resume at 8 PM. Game reduced to 47 overs with 231as the revised target for India to chase #SLvIND

— BCCI (@BCCI) August 24, 2017
19.35 IST: Play to resume in 35 minutes (20:00 local). Game reduced to 47 overs and India's target 231!
19.25 IST: Umpires walk out and along with the groundsmen for the inspection. Huge Cheers from the crowd!  
19.15 IST: Good news for the cricket fans! 
UPDATE: The covers are coming off now. Stay tuned for further updates #SLvIND

— BCCI (@BCCI) August 24, 2017
18.55 IST: Bad news folks, the second innings was scheduled to begin by now but it has started raining heavily. So the scenario now is that there is a cut-off time of 2155 LOCAL TIME for a 20-over match, post which there will be no further play today. However, there is a reserve day tomorrow so in case we don't finish the game by 2315 LOCAL TIME, the remaining overs can be completed tomorrow. Just to let you guys know, the reserve day applies for all the remaining games as well.
18.45 IST: 
The entire ground is now covered #SLvIND pic.twitter.com/sokO88rwaz

— BCCI (@BCCI) August 24, 2017
18.25 IST: 
It has started drizzling here during the innings break #SLvIND pic.twitter.com/vR0eKiBoGn

— BCCI (@BCCI) August 24, 2017
18.15 IST: 
#TeamIndia need 237 runs to win the 2nd ODI #SLvIND pic.twitter.com/v2aDBlJGIg

— BCCI (@BCCI) August 24, 2017
18.05 IST: Sri Lanka 236/8 in 50 overs. Siriwardana 58, Kapugedera 40, Bumrah 4/43, Chahal 2/43
17.57 IST: OUT! Bumrah takes his 4th, removes Dananjaya for 9. Bumrah gets a 4-fer! He has varied his pace nicely and gets rewarded again. Bowls a slower one on a length on middle, Dananjaya makes room and tries to go big over mid-wicket but miscues it completely. The ball spoons in the air behind the bowler. Patel moves to his left from mid off and takes it easily. SL 230/8 in 48.2 overs 
17.56 IST: FOUR! Dananjaya hits Bumrah for a boundary. Short delivery in line of the stumps, Dananjaya makes room and drags it pull over mid-wicket to find the fence.
17.51 IST: OUT! Bumrah removes Kapugedera for 40. Bumrah special this time! A typical yorker from the death over specialist does Kapugedera. He looked to dig it out but could not get his bat down in time. Sri Lanka have started losing wickets again! It is a crucial time of the game and they really would have not wanted this. SL 221/7 in 47 overs 
17.39 IST: OUT! Bumrah removes Siriwardana for 58. The slog overs specialist strikes! Bumrah steams in and bowls a slower ball on off. It's on a length and Siriwardana backs away to shape for a big hit. He intends to flat-bat it over mid off but only manages to slice it off the outer half of his bat towards extra cover. Rohit Sharma stationed there doesn't need to move an inch and pouches it safely. A very good knock from Milinda comes to an end. End of the 91-run stand as well. SL 212/6 in 45 overs 
17.33 IST: Seven runs off Jadhav's over. SL 207/5 in 44 overs
17.28 IST: FOUR! Kapugedera brings up the 200 for Sri Lanka with a boundary off Chahal. Tossed up around off, Kapugedera goes for a booming drive but gets a thick outside edge. Dhoni gets wrong footed and as a result, gets beaten. The ball rolls to the third man fence as there is no protection in the deep.
17.24 IST: Fifty for Siriwardana 49 balls. SL 190/5 in 42 overs
17.21 IST: Kedar Jadav is back into the attack after much deliberations from Kohli and Dhoni.
17.20 IST: Axar finishes his spell. He gives away just three in his last over. His figures are 30/1 in 10 in overs.
17.18 IST: Virat Kohli and MS Dhoni are having a long chat in the middle. Must be about how their approach in the remaining overs.
17.17 IST: Another expensive over for India. Chahal gives away 8 runs. SL 179/5 in 40 overs
17.13 IST: Good over from Axar Patel, just a single off it. Also, fifty-run stand between Siriwardana and Kapugedera. SL 171/5 in 39 overs
17.07 IST: Decent over from Axar. Just 4 runs off it. SL 166/5 in 37 overs
17.04 IST: SIX! Siriwardana hits Jadhav over mid wicket for a maximum. Poor delivery and duly punished! Short delivery, doesn't bounce much. Siriwardana rocks back and pulls it over deep mid-wicket. It sails over the fence. The ball boy near the ropes takes a good catch. SL 162/5 in 36 overs
17.02 IST: Bhuvneshwar Kumar concedes 5 runs off his 7th over. SL 154/5 in 35 overs
16.54 IST: Good over for Sri Lanka as Jadhav gives away 8 runs. SL 149/5 in 34 overs
16.52 IST: Kadar Jadhav is back into the attack! 
16.51 IST: Good comeback from Bhuvneshwar Kumar after conceding boundary on the first ball of the over, 7 runs from it. SL 141/5 in 33 overs
16.46 IST: FOUR! Slightly short on off and Siriwardana pulls it hard over mid-wicket. The ball goes in the air and bounces on its way towards the ropes. Sri Lanka need more of this from their batsmen in the middle.  SL 137/5 in 32.1 overs
Bhuvneshwar Kumar is back into the attack.
16.45 IST: 6 runs from the over, a decent one for the hosts. SL 133/5 in 32 overs
16.43 IST: FOUR! The short ball has been dispatched by Kapugedara. He gets right in the position to pull it hard and flat over mid-wicket for a boundary. The cameraman almost got hit by the ball as it narrowly missed him.  SL 131/5 in 31.4 overs
16.42 IST: Another tight over from Axar Patel, just two runs from it. SL 127/5 in 31 overs
16.38 IST: Fullish on the pads, Kapugedara flicks it through mid-wicket as Chahal gives the chase. he misfields as he can't collect the ball in his first attempt. Two runs have been added to the total. SL 125/5 in 30 overs
Bumrah has been brought back on.
16.35 IST: A successful over comes to an end, 3 runs and a wicket from it. SL 123/5 in 29 overs
Chamara Kapugedara walks in to bat next.
16.32 IST: OUT! Axar strikes this time! It is the big wicket of Angelo Mathews and there is no reviews to save him from the lbw decision. The ball was floated on off and angling in, Mathews went for the sweep but missed the ball completely. The ball struck him low on the pads just on the off stump and Axar appealed straightaway. The umpire had a thought and raised his finger in the end. Sri Lanka are in deep trouble with half the side back in the hut. SL 121/5 in 28.3 overs
16.30 IST: On off, Siriwarana drives it through covers for a single to end Jadhav's over.  SL 120/4 in 28 overs
16.28 IST: Not a good news for Team India! Pandya is uncomfortable and he has a chat with Kohli. He is going off the field now. India will hope that it is not a serious injury as Hardik is really vital to India's cause. Meanwhile, Kedar Jadhav will complete the over.
16.26 IST: Pandya is struggling with his left knee. The physio attends him.
16.25 IST: FOUR! Not off the meat of the bat but good enough! Good length delivery around off, Mathews dances down the track and drags his heave through mid-wicket to find the fence. SL 118/4 in 27.1 overs
16.24 IST: Hardik Pandya is back into the attack!
16.22 IST: Another decent over from Axar. He gives away 3 runs. SL 114/4 in 27 overs
16.16 IST: FOUR! Good shot this from Siriwardana off Axar. Air given outside off this time. Siriwarna waits and opens the face of the bat at the last moment to guide it past third man for a boundary. SL 107/4 in 25 overs
16.13 IST: 100 comes up for Sri Lanka. Something to cheer for the crowd.
16.11 IST: OUT! Chahal removes Mendis for 19. The decison stays! It looked like a hopeful review rather than anything. The ball was floated on middle and off and it went in with the angle. Mathews went for the sweep but missed it as the ball struck him on the pads. The impact was on middle and it would have gone on to hit the middle stump as well. Sri Lanka lose their fourth wicket and are surely in trouble now. SL 99/4 in 23.2 overs. Milinda Siriwardana walks out next
16.08 IST: Axar bowls a good over, gives away 3 runs. SL 99/3 in 23 overs
16.04 IST: Chahal gives away just 2 runs. SL 96/3 in 22 overs
16.03 IST: Spin from both ends. Chahal comes back on to bowl.
16.02 IST: Axar Patel gives concedes 4 runs in his 2nd over. SL 94/3 in 21 overs
15.58 IST: FOUR! That's a great shot from Mathews! Superb timing as well as he gets a drive off Pandya. A classic shot from Mathews! The ball was full on off and the Sri lankan skipper stayed in his crease before timing it off his front foot past the bowler. The ball raced away through mid on and towards the boundary. SL 90/3 in 20 overs
15.55 IST: Axar gives away just one run to start his spell. SL 85/3 in 19 overs
15.54 IST: Axar Patel is introduced into the attack, he replaces Chahal. 
15.52 IST: Very good over from Pandya! Just a single off it. SL 84/3 in 18 overs
15.42 IST: OUT! Pandya removes Tharanga for 9. Tharanga tries to play away from the body but hands an edge to Kohli at slips. Tharanga departs and it's another failure for the skipper! The ball was slightly fuller from good length and the batsman looked to push it to the off side. It was a nothing shot really and the ball took an outside edge which carried to Virat Kohli at wide first slip. The Indian skipper kept his eyes on the ball and made no mistake to remove his counterpart. Superb start by India as they keep on taking wickets on a regular basis. SL 81/3 in 16 overs. Angelo Mathews comes out to bat
15.36 IST: FOUR! Another boundary for Tharanga. This time to third man. This time he guides the ball towards third man as he used the pace of the bowler. The captain will have to play a good long inning if he wants to see his team post a good total.
SL 80/2 in 15 overs
15.34 IST: FOUR! A boundary for Tharanga off the first ball. The ball was loopy on off and Tharanga moved to his front foot and pushed it through covers for a boundary.
15.33 IST: OUT! Dhoni stumps Gunathilaka (19) off Chahal. This is the 99th stumping for Dhoni. Chahal gets his first wicket! Gunathalika has been removed and he will have only himself to blame there. He came down the ground looking to loft it over mid off but Chahal gave the ball air and it completely bamboozled the batsman. Gunathalika missed the ball completely as it went towards Dhoni. The keeper fumbled as he was collecting the ball but as he stayed as clam as ever to complete the stumping. Gunathilaka was stranded out of his crease and had to walk back just like his opening partner did before him. SL 70/2 in 14.1 overs. Upul Tharanga walks in next.
15.30 IST: FOUR! A half-tracker from Pandya and Mendis hits him past backward point for a boundary. Top shot from Mendis! Pandya bowls it slightly short and Mendis gets behind the bounce to cut it past the backward point region for a boundary. The ball raced away there! SL 70/1 in 14 overs
15.28 IST: FOUR! A boundary for Mendis to third man. This will make him feel a lot better. Mendis gets lucky this time. The ball was full and just outside off. Mendis looked to open the face of the bat and play it behind but only managed to get an outside edge. He played it with soft hands and the ball bounced past the keeper for a boundary at third man.
15.27 IST: Good over from Chahal, just a single off it. SL 60/1 in 13 overs
15.24 IST: Pandya gives away just 3 runs in his first over. SL 59/1 in 12 overs
15.21 IST: Hardik Pandya is introduced into the attack as the second change. 
15.20 IST: Just four runs off Chahal's first over. SL 56/1 in 11 overs
15.16 IST: Spin is introduced into the attack! Yuzvendra Chahal to start.
15.15 IST: Another maiden over for Bumrah! SL 52/1 in 10 overs
15.11 IST: FOUR! Gunathilaka hits Bhuvneshwar for a boundary to fine leg to bring up Sri Lanka's fifty! Fullish delivery in line of the stumps, the southpaw places it past Bumrah at short fine leg to find the fence. SL 52/1 in 9 overs
15.10 IST: FOUR! Leg byes for Gunathilaka. Four leg byes! Straying on the pads, Gunathilaka looks to clip it away but the ball brushes his pads. Bumrah at short fine leg dives to his right but the ball goes past him in a flash and through to the fence.
15.04 IST: OUT! Bumrah removes Dickwella for 31. Bumrah strikes and it is Dickwella who will have to go! Smart bowling there as he followed Dickwella who was backing away to the leg side looking for a biggie over mid-wicket. Bumrah darted the ball full on the pads and Dickwella still tried to go for the shot. He did not get enough elevation as the ball went towards Dhawan who jumped and grabbed it with both hands and even took a roll as he went down. India will be happy to break this dangerous looking partnership!SL 41/1 in 7.4 overs. Kusal Mendia walks in to bat
15.00 IST: Good comeback from Bhuvneshwar after being hit for a boundary off the first ball. SL 40/0 in 7 overs
14.57 IST: FOUR! Dickwella punches it in between cover and cover point for a boundary off the first ball. Hardik Pandya makes a dive but not enough to save the boundary.
14.56 IST: Another productive over for Sri Lanka. Bumrah gives away 8 runs. SL 36/0 in 6 overs
14.53 IST: SIX! Once again Dickwella making good use of his back hand to pick these shots. This time Dickwella makes no mistake! Bumrah went for the short ball again but immediately must have regretted it. Dickwella got into the position and powered it over backward square leg for a biggie.
14.51 IST: Great comeback over from Bhuvneshwar. Just three runs off it. SL 28/0 in 5 overs
14.46 IST: 12 runs coming off Bumrah's over! SL 25/0 in 4 overs
14.44 IST: SIX! Superb shot! Dickwella hits Bumrah over fine leg. That was a shorter length ball and Dickwella simply pulled it behind for six runs. The ball sailed over the fine leg region and right into the stands. Great start this!
14.43 IST: FOUR! Dickwella is at it again! That wasn't a bad ball from Bumrah. The ball was on a good length on middle. Dickwella made room for himself by moving towards the leg side and cut the ball through the point region for the boundary. Pressure on bowler straightaway!
14.42 IST: FOUR! This time it is Gunathilaka. He hits a boundary to finish Bhuvneshwar's over. Full on off and this time Gunathalika lofts it over mid off. Gunathilaka looks dangerous as he is getting into the groove now. The ball went right off the middle of the bat there. SL 13/0 in 3 overs
14.39 IST: FOUR! Dickwella lofts it over the top like a short-arm jab over mid on for the first boundary of the match. Dickwella frees himself up with a fine boundary! That was full on off and he cleared the man at mid on with ease as the ball bounced on it's way past the ropes. Dickwella will be very happy with that!
14.37 IST: Maiden over from Bumrah to start off his bowling spell. SL 2/0 in 2 overs
14.45 IST: Jasprit Bumrah to share the new ball with Bhuvneshwar.
14.34 IST: Good start from Bhuvneshwar. He concedes just 2 runs. SL 2/0 in 1 over
14.25 ST: The players are out in the middle. Bhuvneshwar Kumar to start the proceedings for India. Niroshan Dickwella and Danushka Gunathilaka to open for Sri Lanka.
14.10 IST: Playing XIs for India vs Sri Lanka 2nd ODI
India: Rohit Sharma, Shikhar Dhawan, Virat Kohli (c), Lokesh Rahul, MS Dhoni (wk), Kedar Jadhav, Hardik Pandya, Axar Patel, Bhuvneshwar Kumar, Jasprit Bumrah, Yuzvendra Chahal
Sri Lanka: Niroshan Dickwella (wk), Danushka Gunathilaka, Kusal Mendis, Upul Tharanga (c), Angelo Mathews, Chamara Kapugedera, Milinda Siriwardana, Akila Dananjaya, Lasith Malinga, Vishwa Fernando, Dushmantha Chameera
14.05 IST: Captain's Corner:
Virat Kohli: We will bowl first. During the Test, the wicket played slowish during the afternoon session and we're playing in the afternoon. Whole idea is to get the best of batting conditions. It's been nine years and 300 games for the country. It's a huge honour. I try to give my best and today is not different. Dhawan is such an instinctive player. When his head is clear, the bowling or the pitch doesn't matter. It was all up to Shikhar setting the platform and we playing the second fiddle. We are playing the same team. Experiment was about giving the guys different roles. We still have three games to go.
Upul Tharanga: It looks a good wicket. First game we had a good start but we didn't capitalize after that. We need to do the same thing (referring to Dhawan's aggression). We have three changes.
14.00 IST: TOSS! India win toss, opt to field. Virat Kohli has decided to go with an unchanged squad. Meanwhile, Sri Lanka have three changes.
13.50 IST: The toss is 10 minutes away. Don't go anywhere!
13.45 IST: Meanwhile, it will be business as usual for the Indian team. They will aim to be ruthless and extend their dominance over the hosts.
13.35 IST: The hosts will also expect batsmen Danushka Gunathilaka, Kusal Mendis and Angelo Mathews to contribute in the middle-order. All three were off to good starts but failed to build match winning knock in the first ODI.
13.30 IST: Sri Lanka will bank on their opening batsman Niroshan Dickwella who produced a half-century in the opening match of the five-match ODI series.
Brief Preview: India will once again be expected to be at their ruthless best when they take on a Sri Lankan side, which has hit nadir in both form and confidence, in the second one day international at Pallekele on Thursday. After a lop-sided 3-0 Test series victory, the script did not change much in the opening ODI, where India steamrolled the opposition by nine wickets. 
Such has been Sri Lanka's performance that supporters stopped the team bus demanding answers for a shoddy show. Chief coach Nic Pothas pointed out in no uncertain terms that all is not well within the team, indirectly pointing fingers at the interference from team manager Asanka Gurusinha. 
Like it has happened during the past few months, Shikhar Dhawan pummelled the Lankan bowlers into submission with an unbeaten 132. 
For skipper Virat Kohli, it was business as usual with an unbeaten 82. 
As such, it is tough to foresee any changes to the Indian playing XI. Only one out of five games has been played yet, and even in West Indies, Kohli resisted the urge to chop and change too much. (Read Full Preview Here)