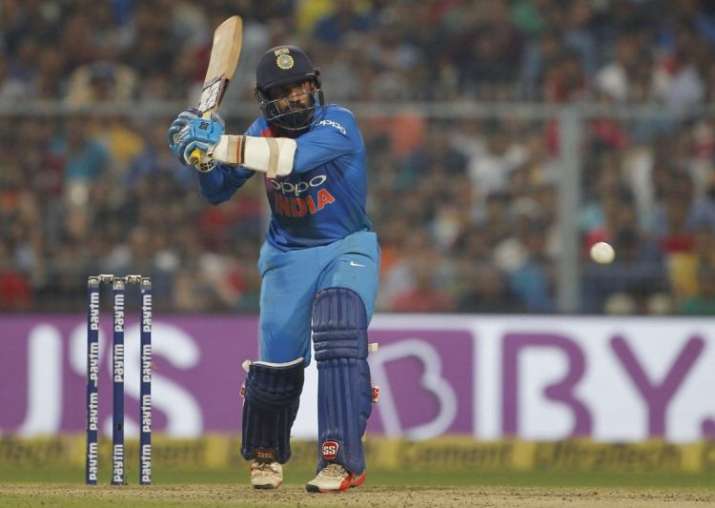 India vs West Indies, 1st T20I in Kolkata:
India vs West Indies 1st T20I: 
India ended a four-match winless run against the West Indies with a five-wicket victory that came on the back of debutant
Krunal Pandya
's flourish and
Dinesh Karthik
's poise on Sunday. Wrist spinner
Kuldeep Yadav
(3/13) led the Indian bowlers' fine show to restrict West Indies to 109 for eight after stand-in skipper
Rohit Sharma
opted to to field on a dew-laden Eden Gardens. India responded well with the pacers giving them a fine start after
Umesh Yadav
dismissed Denesh Ramdin in the third over.​ (
SCORECARD
)
IND VS WI 1ST T20I HIGHLIGHTS FROM EDEN GARDENS:
22.17 IST: India (110/5) beat West Indies (109/8) by five wickets in Kolkata to take 1-0 lead in 3-match series. Karthik 31*, Krunal 21*.
It's all over here at the Eden Gardens.#TeamIndia win by 5 wickets #INDvWI pic.twitter.com/zxDu8K9EYz

— BCCI (@BCCI) November 4, 2018
22.11 IST: FOUR! What a wonderful shot to get a boundary,
22.07 IST: FOUR! Krunal gets his first international boundary with a stylish sweep shot. IND 94/5 in 16 overs.
22.04 IST: Krunal Pandya comes in for the final rites.
22.03 IST: OUT! Pierre removes Manish Pandey for 19. India 83/5 in 15 overs vs West Indies (109/8) at Eden Gardens.
21.57 IST: FOUR! Nicely done. On a length outside off, Pandey punches this wide of mid off and gets a boundary! IND 78/4 in 13.5 Overs
21.51 IST: FOUR! Very poor over from Pollard. Short of a length delivery, Dinesh pulls it towards mid-wicket and the fielder dives but the ball races away to the boundary. 12 runs came off that over. IND 69/4 in 12 Overs
21.50 IST: FOUR! Bowls down the leg side, Karthik flicks it behind fine leg for a boundary. IND 65/4 in 11.5 Overs
21.48 IST: FOUR! Bad delivery to start with. Bowls down the leg side, Karthik flicks it towards fine leg for a boundary. IND 61/4 in 11.1 Overs
21.45 IST: Only two runs for Pierre tight over. IND 57/4 in 11 Overs
* A bit of a break as dew is being swept off the ground. Khary Pierre introduced now.
21.35 IST: BOUNCER! SIX! Short of a length delivery, Karthik gets a top edge behind fine leg and goes for a six. 50 up for India. IND 52/4 in 8.5 Overs 
* Oshane Thomas is bowling out. Big punt by Brathwaite. A wicket here and well, you never know... 1-0 might be a possibility.
* Dinesh Karthik walks in at number 6, replacing Rahul.
21.28 IST: OUT! Rahul goes too! India are now 4 down. A short ball, outside off, Rahul pulls it uppishly but hits it straight to Darren Bravo at deep square leg! Could not have picked the fielder any better. A meter either side of him would have been a boundary but... that is what life is - full of ifs and buts. IND 45/4 in 7.3 overs 
21.24 IST: FOUR! Good shot. Pitched up on middle stump, Pandey goes straight past the bowler and gets a boundary towards mid on. IND 43/3 in 6.4 Overs
* Manish Pandey comes in at number 5, replacing Pant.
21.18 IST: OUT! Third wicket down! Windies are surely making life a bit difficult for the Indians. Pant departs as well. A bit of a rash shot. Perhaps he wanted to maximize whatever was left of the Powerplay. A length ball, around middle, Rishabh looks to pull but gets a top edge. The ball goes miles in the air and Darren Bravo comes running in from cover, calls for the catch and then takes it. Well, this is now turning out to be an interesting catch. Very good catch from Bravo, considering that Fabian Allen was coming in from point too. IND 35/3 in 5.4 overs
21.14 IST: FOUR! Tickled away fine! Oshane Thomas is losing his length. Bowls it down the leg side, Rahul flicks it towards fine leg for another boundary. 10 runs from the over. IND 32/2 in 5 Overs
21.13 IST: FOUR BYES! That missed everything and everyone.  IND 28/2 in 4.5 Overs
* Thomas will bowl his third over of the spell.
21.06 IST: FOUR! Oozing class. On a length outside off, Rahul punches it through the covers for a boundary. IND 20/2 in 3.2 Overs
21.02 IST: OUT! Oshane gets Dhawan again! Clean bowled and the middle stump and Dhawan - both go for a walk. Beautiful delivery into the left-hander, Dhawan just misses it completely and gets clean bowled. IND 16/2 in 2.5 overs 
20.57 IST: Only four runs from the Keemo Paul over. IND 11/1 in 2 Overs
* Lokesh Rahul comes in at number 3, replacing Rohit. Keemo Paul to bowl from the other end.
20.50 IST: OUT! There is a spike and Rohit has to go! No love affair with Eden tonight. Thomas gets one early. Angling into the right hander, the batsman gets beaten and gets an inside edge and goes towards the keeper for a comfortable catch. India lose their first wicket. IND 7/1 in 1 overs 
20.47 IST: FOUR! Rohit Sharma plays an excellent stoke for a boundary. IND 6/0 in 0.4 Overs
* The Windies get into a huddle. What can they get out of this T20I? Maybe try and slow India down with a few wickets? Out come the openers. Rohit Sharma and Shikhar Dhawan. Oshane Thomas to start off the proceedings to the Indian skipper.
20.35 IST: West Indies 109/8 in 20 overs against India at Eden Gardens. Kuldeep 3/13, Krunal 1/15. FOUR! A boundary to end the proceedings. Windies have managed to play out their 20 overs. A length ball outside off, Pierre swings hard but gets a top edge which goes over short third man, lands on the practice pitches and then scoots away into the fence. 
Innings Break!

Outstanding bowling from #TeamIndia restrict the Windies to a total of 109/8.

Chase coming up shortly #INDvWI pic.twitter.com/R5czini4KH

— BCCI (@BCCI) November 4, 2018
20.31 IST: FOUR! SLAM! A short ball, Paul waits for it and pulls it over square leg for a boundary!
20.29 IST: EDGED, FOUR! Landed outside off, Pierre looks to guide it towards third man but gets a thick outside edge which eludes the diving Dinesh Karthik to the third man fence.
20.27 IST: Khary Pierre, one of the two debutants remaining, comes on to bat at number 10.
20.26 IST: OUT! Khaleel Ahmed removes Fabian Allen for 27. Maiden T20I wicket for Khaleel now. Windies are 8 down and there are still 2 overs left.  West Indies 87/8 in 18 overs vs India at Eden Gardens.
20.24 IST: TOP EDGE, FOUR! That is a lucky boundary but Windies will take all that they can get.
20.19 IST: FOUR! Heave-ho from Allen. A length ball on middle, Allen swings it over mid-wicket where some poor piece of fielding aids the ball into the ropes.
20.14 IST: Fabian Allen DROPPED, FOUR! Should have taken that. Full and outside off, Allen swings this high into the night sky. Lokesh Rahul calls for it from long on, runs to his left, gets to the ball but puts it down. Concedes a boundary as well.
20.10 IST: Keemo Paul comes in at number 9, replacing Brathwaite. And is he gone first ball? A review has been taken for LBW. He was adjudged not out by the on-field umpire.
20.09 IST: OUT! Kuldeep Yadav removes Brathwaite for 4. Plumb LBW. The skipper is gone. Tossed up again on leg stump, the batsman tried to flick but misses and gets rapped on the pads. The umpire raises the dreaded finger and Carlos does not bother to review. West Indies 63/7 in 14.5 overs vs India at Eden Gardens.
20.07 IST: FOUR! Tossed up outside off stump, Allen dances down the track and hits it over long on for a boundary.
20.03 IST: Time for the bowlers. Here comes Fabian Allen. Okay, he is an all-rounder.
20.02 IST: OUT! Kuldeep Yadav removes Powell for 4. Number 6 is down! The googly from Kuldeep, outside off, fuller in length, Powell looks to drive but the bat hits his shoe and the ball takes the outside edge. Brilliant catch from Karthik behind. Sorry state for the Windies.  West Indies 56/6 in 12.3 overs vs India at Eden Gardens.
19.55 IST: Remember the name. Ian Bishop had said this in 2016. Not quite done much worth remembering since then. Here's Carlos Brathwaite.
19.54 IST: OUT! Kuldeep Yadav removes Darren Bravo for 5. Half the side is down now! Poor cricket from Windies. Poor cricket from Bravo. All sorts of shambles and India are not even being allowed to bowl well. Wickets are being handed on a platter. The one man who could have perhaps batted out the 20 overs has been dismissed a ball after the 10th. Full on middle, Darren looks to swing it over long on but barely gets to the pitch of the ball. He finds Shikhar Dhawan at the ropes who takes it smartly, with a leap to his right.  West Indies 49/5 in 10.1 overs vs India at Eden Gardens.
19.49 IST: Rovman Powell is the next man in, at number 6, replacing Pollard.
19.48 IST: OUT! Krunal Pandya removes Pollard for 14. Straight to the man! Oh dear... oh dear... oh dear... Windies are in all sorts of trouble. Fuller in length, slightly slower, Pollard tries a repeat of his previous six but this time, the ball arrives a bit late and he is already through his shot. It goes off the inner half of the bat and lobs towards long on where Manish Pandey takes it calmly. 4 down, nearly half the overs bowled and the score is not even half of what can be called as the par score at Eden. Trouble.  West Indies 47/4 in 9.2 overs vs India at Eden Gardens.
19.42 IST: SIX! When this man hits, they usually stay hit. Hardly any power. Just stand and deliver.  WI 43/3 in 7.3 overs.
19.38 IST: Just three runs from the over. Jasprit Bumrah to Kieron Pollard, no run. On middle and off, watchfully kept out. WI 34/3 in 7 overs.
19.33 IST: Khaleel Ahmed to Kieron Pollard, no run. The batsman shows the full face of the bat and defends the ball on the back foot. Good Powerplay for India and West Indies are 31/3.
19.28 IST: Darren Bravo is the new man in.
19.27 IST: OUT! Bumrah removes Hetmyer for 10. In the air... taken! Three wickets in three overs. Not a lot of teams win the game after losing three in the Powerplay. The bouncer does the trick. It is short and it hurries the batsman. Hetmyer goes for the pull but the ball takes the top edge and lobs high in the air towards short fine leg. Karthik runs towards the ball, calls for it as Khaleel there is also interested. He lets it be for the keeper as he has the gloves on and Dinesh takes it with ease. Bumrah strikes in his first over and the Windies slip further.  West Indies 28/3 in 4.4 overs vs India at Eden Gardens.
19.25 IST: FOUR! That has raced across the turf! On the shorter side, Hetmyer pulls it through mid-wicket and the ball races away. It is just a matter of beating the fielders in the rin, there is no stopping the ball after that.
19.20 IST: Kieron Pollard walks in to face the music now.
19.19 IST: Shai Hope OUT! RUN OUT! Comedy of errors there. Hope flicks it towards mid-wicket. He then thinks of a run, takes a few steps ahead. Hetmyer responds first but then seeing Hope stop, he turns and runs back. Hope does not see that as he was watching the ball and runs towards Hetmyer's end. Rahul collects the ball and his throw is a poor one as it is above the keeper. However, Manish shows great match awareness as he is backing up. Collects the ball and dislodges the bails. The umpires though are not sure as to who is run out. They go upstairs to find out and replays show, it is Hope who has to walk back. So, two wickets in two overs for the Windies and they are in a spot of bother here.  West Indies 22/2 in 3.1 overs vs India at Eden Gardens.
19.16 IST: FOUR! Off the mark in style! It was a length ball outside off, Shimron moves his front leg out of the way and lofts it straight back over the bowler's head. Boundary.
19.13 IST: Shimron Hetmyer walks out to the middle.
19.12 IST: OUT! Umesh Yadav removes Ramdin for 2. EDGED AND TAKEN! Ramdin starts to walk there and India draw first blood. A tentative push there. No foot movement and it was played away from his body. That brings about the downfall of Ramdin. It was an outswinger outside off and on a length. Ramdin hangs his bat out. The ball takes the edge and goes into the mitts of Karthik. West Indies 16/1 in 2.1 overs vs India at Eden Gardens.
19.10 IST: FOUR! Spoils the over! 8 from the second also. Down the leg side, Hope puts it away with a flick shot. It races to the fine leg fence.
19.05 IST: FOUR! But he is putting away the bad balls. Short and it sits up to be hit. Hope rocks back quickly and pulls it through mid-wicket for a boundary. Second of the first over.  WI 8/0 in 0.5 overs.
19.03 IST: FOUR! Windies are underway! A poor effort in the field sees them open their tally with a boundary. Slightly fuller in length and there is not a lot of swing this time. Hope strokes it through extra cover. Pandya from mid off hares after it. He slides and tries to stop it with his left but unfortunately, the ball hit his right hand and creeps towards the ropes. WI 4/0 in 0.2 overs.
18.59 IST: Done and dusted with the National Anthems and the bell here at the Eden Gardens has been rung by Mohammad Azharuddin, which means we are all set for the action to begin. The Indians make their way out to the middle. Shai Hope and Denesh Ramdin are the openers. The former will take strike and he will Umesh Yadav who has the new ball in hand. Here we go.
18.57 IST: The players make their way out for their respective National Anthems. The visitors sing their first, followed by the Indians.
18.55 IST: Windies skipper, Carlos Brathwaite, says he wanted to bowl first as well as the dew plays a key role in the second innings. Adds further they will try to enjoy the game. Informs they have a few debutants with a few experienced players as well. Ends by saying, they have three debutants, Oshane Thomas, Khary Perry and Fabian Allen. Ends by saying, Khary Perry is an exciting prospect.
18.50 IST: "We have played a lot of cricket here, batting second becomes easier, the dew might turn out to be a factor as well, it's going to play a massive role, it has already started setting in, shouldn't be a big factor in the first innings, but might turn crucial during the second innings. No need to make drastic changes, need to focus on our basics, need to adapt to the different format, a lot of these guys have played T20 cricket. It's going to be an exciting series, it's not going to be an easy series, we are playing the defending champions. Bhuvneshwar Kumar misses out, he isn't feeling well, Umesh Yadav comes in place of him. Yuzvendra Chahal misses out as well," Rohit says after winning the toss.
18.45 IST: Windies Playing XI: Rovman Powell, Darren Bravo, Shai Hope, Shimron Hetmyer, Denesh Ramdin (wk), Kieron Pollard, Carlos Brathwaite (C), Keemo Paul, Fabian Allen, Khary Pierre, Oshane Thomas
18.38 IST: India Playing XI: Rohit Sharma (C), Shikhar Dhawan, Lokesh Rahul, Rishabh Pant (wk), Manish Pandey, Dinesh Karthik, Krunal Pandya, Kuldeep Yadav, Jasprit Bumrah, K Khaleel Ahmed, Umesh Yadav
🇮🇳 Playing XI for the 1st T20I.

Live - https://t.co/902YX5Ecwq #INDvWI pic.twitter.com/Sd6rkePA9F

— BCCI (@BCCI) November 4, 2018
18.30 IST: India win toss, opt to bowl against West Indies at Eden Gardens.
#TeamIndia wins the toss and will bowl first against Windies in the 1st T20I.#INDvWI pic.twitter.com/he5OswpV6t

— BCCI (@BCCI) November 4, 2018
18.25 IST: West Indies are playing three debutants in Oshane Thomas, Fabian Allen and Kharry Pierre.
18.22 IST: "It's a proud moment for @krunalpandya24 and Khaleel Ahmed as they are all set to make their T20I debut for Team India," the BCCI says in a tweet.
It's a proud moment for @krunalpandya24 and Khaleel Ahmed as they are all set to make their T20I debut for #TeamIndia 👏👏 pic.twitter.com/l4Ovn8u5eC

— BCCI (@BCCI) November 4, 2018
18.15 IST: Just In! Krunal Pandya and Khaleel Ahmed get their maiden T20I cap.
18.10 IST: All-rounder Krunal Pandya in all likelihood will make his senior India debut after being named in the final 12 for the first T20 International. (Read full story)
Brief preview: 
The 'end of Dhoni era' notion has been dismissed unequivocally but then India, for the first time, will still be without the figure with a monumental body of work when they face West Indies in the opening T20 International on Sunday. Less than a week after two-time World Cup-winning skipper MS Dhoni was left out of India's T20I squad, captain Virat Kohli has said he remains an integral part of India's plans.
Chief selector MSK Prasad also said that it was not the end of the road for Dhoni in T20Is.
With Kohli rested for the three matches, Rohit Sharma will lead the side against the reigning T20 champions.
Under Jason Holder, West Indies were mauled 0-2 in the Test series in six days' of action. In the following five-match ODI series, they posed some challenge before being thrashed 1-3 with a nine-wicket loss in Thiruvananthapuram in the final one-dayer. (READ FULL PREVIEW)