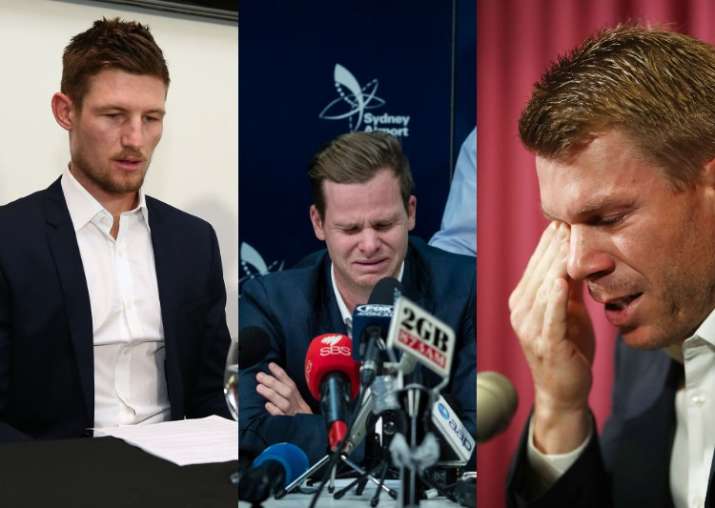 Former India opener Virender Sehwag has slammed Cricket Australia's decision of imposing heavy sanctions on the tainted Australian trio of Steve Smith, David Warner and Cameron Bancroft in wake of the ball-tampering scandal that has rocked the cricket fraternity. Calling the punishment "too harsh" for an offense like ball-tampering, Sehwag said it's like sentencing a thief for murder charges.
"Many players have been involved in ball-tampering prior to this incident. They have received sanctions from the ICC or even their respective boards but the punishment which Steve Smith, David Warner and Cameron Bancroft have got is a bit harsh in my opinion as no player has ever been banned for 12 months for ball-tampering," Sehwag told India TV during the show 'Cricket Ki Baat'.
"A thief can't be sentenced for murder. So, I feel this was a harsh decision. I think these players could have been spared after the punishment imposed by the ICC. And even if Cricket Australia wanted to punish them further, they could have just extended the ban to 5-6 Test matches," the 39-year-old Delhi based former batsman added.
Smith and Warner were banned for 12 months after an investigation into the Australian cricket team's cheating scandal identified Warner as the instigator of the ball tampering plan that unraveled in South Africa.
Australian Prime Minister Malcolm Turnbull and sports commissioner publically condemned the ball-tampering scandal. According to Sehwag, the intervention of Australian government influenced Cricket Australia's decision.
"I think the government in Australia was very active on the entire issue and it definitely influenced Cricket Australia's decision," he said.
Mentioning former Pakistani cricketer Shahid Afridi, who was banned for two ODIs after appearing to bite the ball twice during his team's two-wicket loss to Australia in Perth in 2010.
"You must have seen Shahid Afridi biting the ball, so by that logic, he shouldn't have played cricket again," Sehwag added.
Cricket Australia said Warner "instructed" young batsman Cameron Bancroft to carry out the tampering on the field with a piece of sandpaper — even showed Bancroft how to do it — then misled match officials and tried to cover up his role in the cheating.
Smith, the top test batsman in the world and the star of Australian cricket, knew about the plan. But the captain failed "to take steps to seek to prevent the development and implementation of that plan," Cricket Australia said as it released the findings of the investigation by its head of integrity that dragged in all the players, coaches and backroom staff for questioning.
Smith and Warner were banned from playing for Australia, or any high-level cricket in Australia, for a year. Bancroft, maybe because he's an impressionable newcomer in the team, received a nine-month ban.
The 28-year-old Smith will not be allowed to captain Australia for two years and Warner will never be allowed to hold a leadership position in Australian cricket again. At 31, Warner may never play for Australia again.
The fallout extended beyond Australia. The three players were also all banned for the 2018 edition of the Indian Premier League, denying them places in the lucrative Twenty20 tournament where players are paid big money to appear.