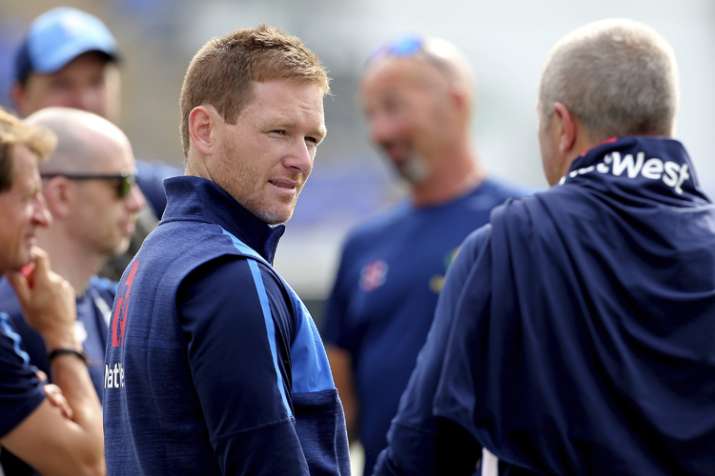 England limited-overs skipper Eoin Morgan insists that a win against India in the ODI series decider on Tuesday holds much more significance for him and his team rather than staying as the top-ranked side in the world. Having already secured their top rank by winning the last game at Lord's, Morgan is seeking to win the series tomorrow after losing the T20I series 1-2 earlier. (India tour of England Full Coverage)
Speaking to the media, a day before the series finale, the Dublin-born batsman also reiterated his preference for tri-series and matches with some context saying that he is not a big fan of bilateral one-day series.
"Totally, totally," he said. "They (India) are a really strong side like you've seen at times at Lord's and particularly at Trent Bridge.
"So to beat them in a series would be quite significant, confidence-wise it would be quite significant. This winner-takes-all game, it's brilliant. Having a game like this is crucial for us.
"It's a significant game on Tuesday. Kuldeep (Yadav) might bowl really well again, (Umesh) Yadav might bowl well. We've got to give yourself that chance to play well."
"I am not a huge fan of bilateral series - having a game like this is crucial for us," Morgan said. "I prefer a tri-series and the context. Every game brings something different with significance on it."
Among the highlights of the current tour of India to England, the most prominent has been left-arm wrist-spinner, Kuldeep Yadav, fooling the English batsmen with his mystery spin. But as they did in the 2nd T20I, England batsmen have responded well to the threat and have shown the application required to face such a versatile bowler.
"We started better against him and the more we face him obviously the easier he got to pick. But you've got to play him well still," said Morgan of Kuldeep.
"Just emphasising similar points that we did after (a Twenty20 at) Old Trafford - have a look at your plan, make sure you're clear then commit to it.
"All of our plans are about positive thinking, and we shouldn't veer away from that," concluded the left-hander, who has been the chief architect of England's white-ball resurgence after a dismal show at the 2015 World Cup.