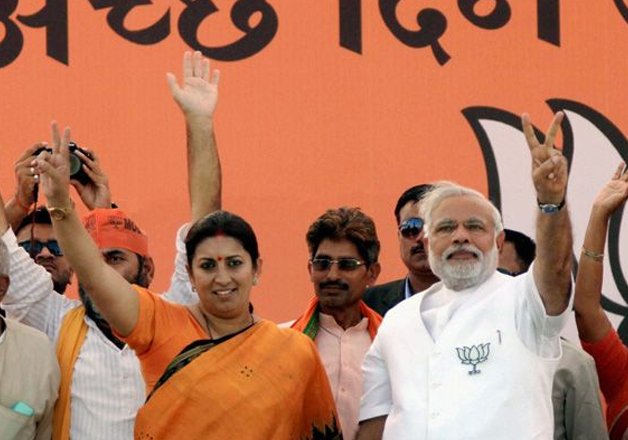 New Delhi: Prime Minister Narendra Modi has praised HRD Minister Smriti Irani for her powerful speech which she delivered in the Lok Sabha during the debate on the recent incidents concerning Dalit student Rohith Vemula's sucide and some central universities.
"Do hear this speech by @smritiirani. https://www.youtube.com/watch?v3PlGs8...Satyamev Jayate," Modi tweeted from his personal handle on Wednesday.
Irani delivered a spirited and emotional speech in the Lok Sabha on Wednesday, strongly refuting allegations concerning her ministry over the rows concerning the Jawaharlal Nehru University and Hyderabad University.
Irani insisted that her ministry had no role in Rohith's death and the deceased himself had said in his suicide note that nobody should be held responsible for his action.
Replying to the charged day-long debate on recent incidents in JNU and Hyderabad University during which the government faced Opposition onslaught, a combative Irani said she was being targeted by Congress for contesting against Rahul Gandhi in Amethi Parliamentary constituency.
At the same time Irani pointed out that during last 20 months as minister she tried to do justice to students by trying to address their complaints without asking for their "caste or religion".
Rejecting the charge of saffronising education, she said, she would quit politics if it was established she made any attempt to do so.
On the other hand, citing documents, she said, report by JNU's security people observed that some students were indulging in anti-national sloganeering even though the students had sought permission to hold a "poetry" event.
Those involved in the programme which include Umar Khalid, Kanhayia Kumar and others, she said, were suspended by the JNU authorities though they were allowed to stay on the campus till completion of the inquiry.