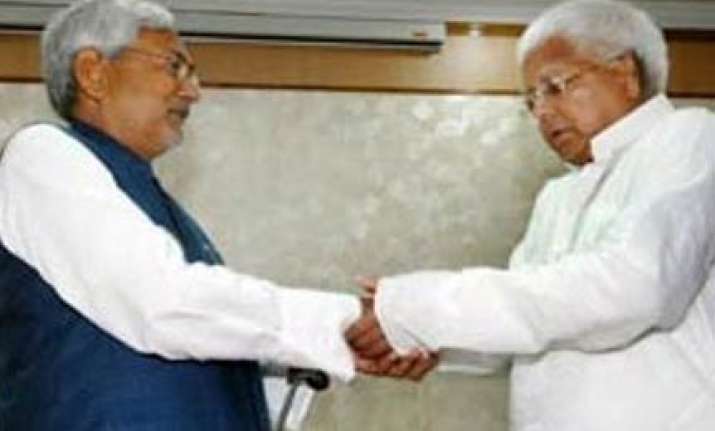 Patna, Oct 7 : RJD chief Lalu Prasad today advised Chief Minister Nitish Kumar to allot an official residence for himself in his soon-to-be status of a former chief minister as he was "all set to be thrown out of power for the good of Bihar and its people."  
"Nitish has virtually descended from power and hence, I would not like to make a jibe at him, but rather suggest to him to allot a house for himself in his future capacity of the ex-CM," he said at a press conference. "Who knows? I may have a change of mind upon becoming chief minister and may not allot a house to Nitish as desired by him," Prasad said in his typically witty style.  
"There were no no friends and associates that Nitish Kumar had not cheated," Prasad said looking towards former JD(U) leaders Prabhunath Singh and Vijay Krishna, now with RJD.  "The chief minister had virtually ensured that Singh and Krishna faced capital punishment in connection with frivolous criminal cases against them....by the grace of god, the two leaders have come unscathed during trial," Prasad claimed and described his arch rival as a vindictive leader.  
Alleging rampant corruption during the NDA rule in Bihar, the RJD chief said now it will be the turn Nitish and his associates to face the music in the alleged DC/AC bills scam and added that the guilty persons will never be able to come out of the long reach of the law.  
Prasad also spoke about the NDA government's soft handling of the naxalites menace and said that the ruling coalition allowed the ultra-left oufits to target the urban areas, including town and cities and spreading their tentacles in two-third of Bihar's territories.  
To a question that Nitish Kumar was likely to campaign with the BJP leader L K Advani, Prasad quipped as to what was new about the news as the former has been "sitting in the laps of the communal forces for long." PTI