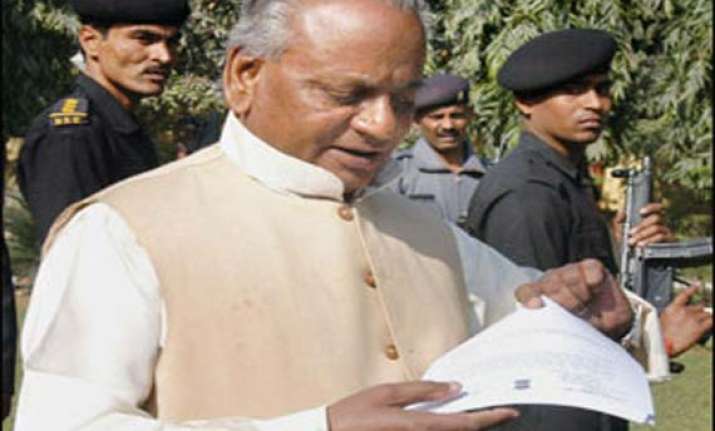 Lucknow, Dec 25: Former Uttar Pradesh Chief Minister Kalyan Singh today said his party Rashtriya Jankranti Party would merge with the BJP in a rally to be held here on January 21.
Kalyan, who has made a re-entry into BJP, made the announcement while addressing a function to celebrate 88th birthday of former Prime Minister Atal Bihari Vajpayee at Gulala ghat as the chief guest.
He said that Vajpayee worked for 'Hindi-Hindu-Hindustan' with dedication.
Terming him as a popular leader of the world, Kalyan said that height of morality in politics was witnessed in the regime of Vajpayee as the PM.
He said that while NDA government fell by only one vote in Lok Sabha, Atal did not got involved in politics of buying votes.
Kalyan alleged that UPA government was running on "bought" votes.
Terming Kalyan as his elder brother local MP Lalji Tandon said that he was and would remain with them.  BJP state president Laxmi Kant Bajpai said the party would win forthcoming Lok Sabha elections with huge votes in Kalyan's leadership.
Bajpai referred to Pokhran test, POTA and land and water schemes for development as historical decisions of Vajpayee's regime while urging party workers to prepare for the elections and BJP's victory in it.
Meanwhile, on the occasion of birthday of the former PM, BJP spokesman Vijay Bahadur Pathak flagged off "Atal Sushasan Yatra" from Rae Bareli, parliamentary constituency of Congress president Sonia Gandhi.
Pathak said the yatra would cover various assembly segment in five days during which meetings would be held to make people aware with the "anti-people" policies of the UPA government and remind them of good governance of the former PM Vajpayee.
The spokesman alleged that by allowing FDI in retail the Centre was forcing the country towards another slavery and it would render crores of people unemployed.