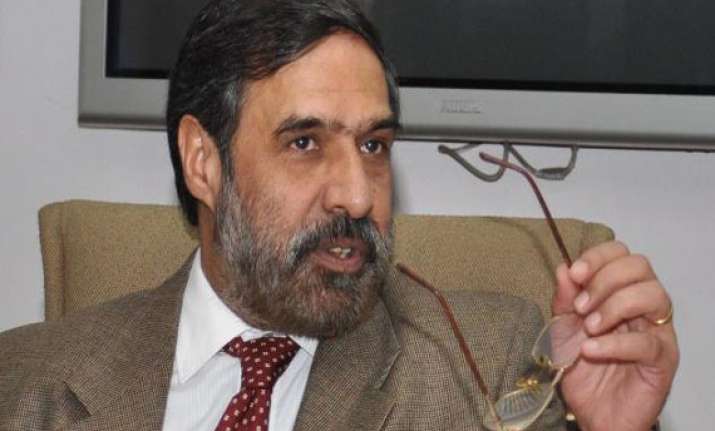 Amritsar: Union Minister and senior Congress leader Anand Sharma today said the ongoing Lok Sabha elections were witnessing a battle between secular and communal forces.
"The fight is between secular, progressive and nationalist forces on the one side and communal, divisive and sectarian forces on the other," the Commerce Minister told reporters here.
Asserting the country had progressed enormously during the Congress-led UPA government, he accused the BJP and its prime ministerial candidate Narendra Modi of unleashing a disinformation campaign against the present dispensation.
They were suggesting Modi had some magic wand to cure the country of all ills, the minister said.
Despite the fact that the last 10 years were very difficult for the economy on the global front, the Indian economy had withstood all the challenges and maintained a steady growth, he said.
In 2004 when the NDA demitted office, the total GDP was at 500 billion dollars while now it stood at two trillion dollars, Sharma said adding "no other country has been able to achieve this."
Forex reserves which were 100 billion dollars in 2004 had tripled and now stood at 300 billion dollars, he said.
This was despite the fact that the prices of crude oil in the international market at this time ranged between 100 and 125 dollars per barrel while in 2004 the prices were only 23 dollars per barrel, Sharma said.
The UPA had focused on welfare measures spending Rs 80,000 crore on education as compared to Rs 10,000 crore by the NDA, he said.
Similarly, the UPA government spent Rs 35,000 crore on health against Rs 6,000 crore by the NDA, Sharma said.
It was the BJP-led NDA government, of which the Akali Dal was a constituent, that provided certain concessions to the hill states, he said.
Certain tax concessions were withdrawn gradually, he said.