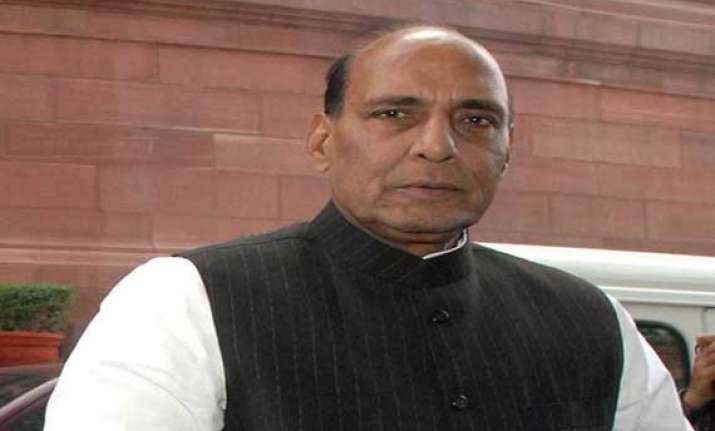 Azamgarh/Ballia (UP): Praising BJP's prime ministerial candidate Narendra Modi, party president Rajnath Singh today said the country needs a single dose of a drug, called "Modicine", to treat all its ills.
The BJP president also said his party has "launched Modi missile which will demolish all the problems".  Addressing a series of rallies in Azamgarh and Ballia, Singh said that "the way people use Crocin to treat fever and body ache similarly the country needs 'Modicine' to relieve itself of all the ills. A single dose of this drug will do the cure".
"The country is facing serious problems from inside as well as from outside. The country needed a strong hand to get rid of its problem.
"After becoming the president of the party, I could not think of a better name than Gujarat Chief Minister Narendra Modi. We have launched Modi missile which will demolish all the problems," he said.
Slamming the ruling Samajwadi Party in Uttar Pradesh, he said the party's victory has resulted in dominance of mafias and its workers are indulging in 'hooliganism'.  Referring to Priyanka Gandhi's "neech rajniti" remarks against Narendra Modi Singh said that "in BJP's dictionary there is no place for the language used by Priyanka".
Accusing the Congress, SP and BSP of being hand in glove, the BJP president said the public had given 12 years of punishment to BJP after it joined hands with BSP, and asked will the people give 20 years' punishment to SP, BSP and Congress for joining hands.
Defending the poster of Lord Ram at Modi's recent rally in Faizabad, he said the original copy of the Constitution also had images of Lord Ram, Krishna and Shiva then why was the objection to it being used in party meeting.
He also defended the statement of Amit Shah terming Azamgarh as a "hub of terrorists", saying those who are indulging in terrorism must be acted upon.