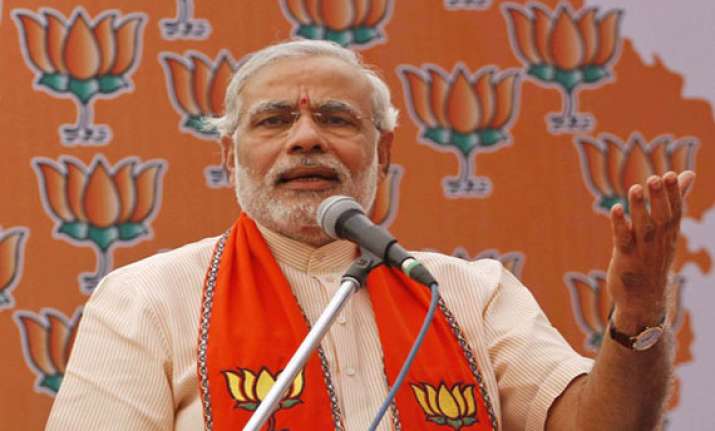 New Delhi: The Congress would be reduced to two digits when election results are announced May 16, BJP's prime ministerial candidate Narendra Modi said Saturday, and rubbished allegations that his government in Gujarat had favoured an industrialist in allocation of land.
Modi, who replied to a wide range of questions during an interview to TV channel Aaj Tak, steered clear of commenting on Priyanka Gandhi Vadra's attacks on him and said he would not like to speak on people who were not in the electoral contest.
The Bharatiya Janata Party leader said the Congress was making efforts to cross the 100-seat mark in the Lok Sabha election.
"Indications are that they will not be able to cross two digits," Modi said.
He said that ever since the election was announced, senior leaders of the Congress started fleeing the battleground.
"They had neither the determination to put up a good fight, much less any hope to win it," Modi said.
Modi rubbished Congress allegations that two of his ministers were facing charges and about his government having favoured an industrialist in land allocation in Gujarat.
He credited the BJP's plank of good governance and development of going down well with the people who, he hoped, would give him a "decisive mandate".
"I think people will give a mandate for the most stable and strong government in the last 20-25 years," Modi said.
Asked if he was future prime minister, Modi said he would like to wait for the results.
"People of the country are casting their votes. We should wait for May 16."
Modi gave a similar answer to questions about cabinet formation, saying these should be raised after May 16.
On a query about the Varanasi Lok Sabha constituency where Aam Aadmi Party leader Arvind Kejriwal is contesting against him, Modi said he liked good competition.
"If there is competition, it is good. Otherwise there will be no fun," he said. "There should be competition in politics."
Asked if he would like to apologise to the poll panel for alleged violation of the model code of conduct, Modi said: "That stage has not come yet. Our legal team is pursuing the matter."
Modi said he has never been booked even for parking on the wrong side.
The Gujarat chief minister had displayed his party's symbol - lotus - and addressed media persons after casting his vote in Gandhinagar April 30.
An FIR was lodged against him the same day under the directive of the Election Commission.
Asked about the large number of rallies he has addressed, Modi said he was a "labourer" who was in habit of hard work from his childhood.
Asked about Priyanka Gandhi slamming him, Modi indicated that she was not in politics or in direct poll competition and he would not like to comment.
Modi, however, alleged he was being targeted at a personal level.
"They are abusing my family. I can't do that," he said.
He accused the Congress of dragging its feet on bringing back the black money stashed abroad.
Modi said personal attacks have been made against him for the last 12 years and made light of the Congress criticism on him over the past few days.
"They are in trouble and are finding ways," he said.
Answering a query on his aide Amit Shah having faced action from the Election Commission, Modi said the poll panel had accepted that charges against him were wrong.
Asked about the BJP-led government's foreign policy, he said external relations were conducted on the basis of reciprocity.
"India should not show an eye nor should lower its eye," he said.
Modi also said the possibility of discretion allowed scope for corruption and hence government policies should be put in black and white, and that BJP governments in states had a proven record of governance.
"BJP's vision, policies, intention are clear," he said.