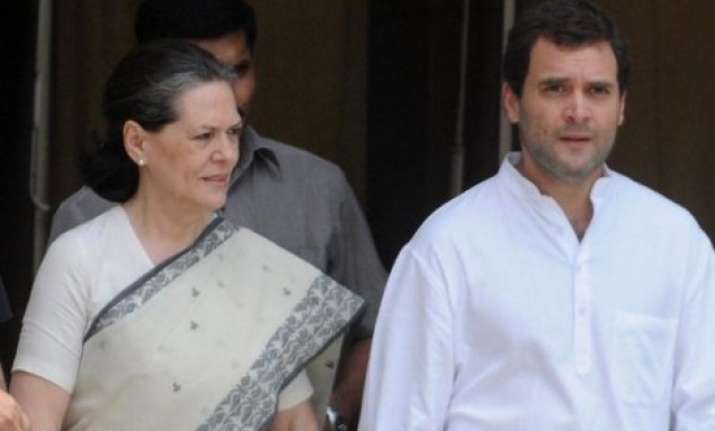 New Delhi: Congress President Sonia Gandhi and Vice President Rahul Gandhi will kickstart the party's campaign for Delhi Assembly polls with a "mega rally" after January 10, as the party gears up to bring out its first list of candidates in a day or two.
Sources said that both Rahul and Sonia will address the rally, whose timing will be finalised after the rally of Prime Minister Narendra Modi.
Reports had it that Modi is likely to address a rally in the national capital on January 10 to bolster his party's campaign.
Polls in Delhi may take place in February and neither Congress nor BJP has declared their chief ministerial candidates so far.
In the last Assembly elections, Congress had fielded its three-time Chief Minister Sheila Dikshit and the BJP had declared Harshvardan as its candidate.  The Assembly polls in December 2013 had thrown up a fractured mandate with the BJP getting 31 seats and its ally Akali Dal 1 in the 70-member Assembly.  
Arvind Kejriwal's Aam Aadmi Party, which had made an impressive debut in last Delhi polls, bagged 28 seats, while the Congress was decimated with its tally plummeting to only 8, its worst-ever performance in Delhi.  Later, Congress supported AAP in government formation but Kejriwal quit as chief minister in February this year over his government's failure to pass the Jan Lokpal bill pushing the state under President's rule.
Banking on Narendra Modi's "wave", BJP is hoping to increase its tally while AAP, which faced strong criticism after Kejriwal quit as Chief Minister, is trying to hard to gain its lost ground.
While the view in Congress is that it may not be in a position to form government, it will better its tally from the previous polls.
The party is also, in a departure from the existing practise, releasing the first list of candidates much in advance this time.
Sources say that a consensus was reached on near-two dozen seats and the first list of candidates can be announced anytime now.
"The list will have some big surprises," an AICC functionary said speaking on the condition of anonymity.  All the sitting MLAs will be repeated while the party will also field those who stood second. Former Delhi Chief Minster Sheila Dikshit, who had lost to Kejriwal from New Delhi seat, has made it clear that she will not contest Assembly polls this time.
Earlier there was a speculation that the party may ask some of its former MPs to contest polls but sources in the party say that most of them have not evinced any keenness for it.