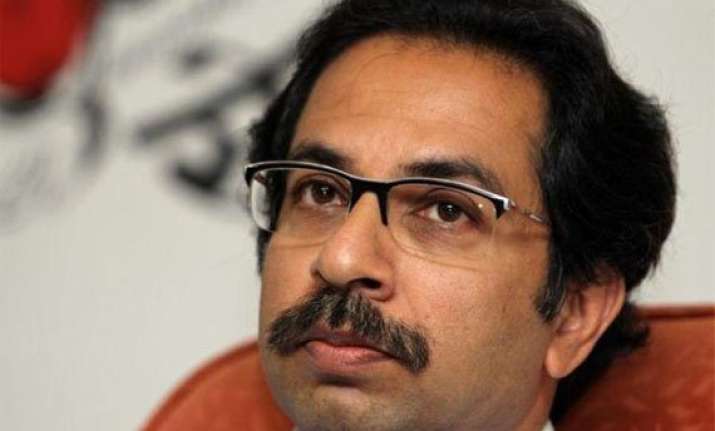 Mumbai/Ahmedabad: As BJP appeared going soft on Shiv Sena by talking of a post-poll partnership in Maharashtra, the latter today went on the offensive, accusing it of splitting the saffron alliance to play the 'Vidarbha card' to garner votes in the region.
Invoking Maratha king Shivaji and his own father, Shiv Sena founder Bal Thackeray, Sena president Uddhav Thackeray said his party had been "betrayed" by BJP.  
"You (BJP) broke the alliance with Shiv Sena because you knew you will never be able to divide Maharashtra as long as we were there.
But keep one thing in mind, we will never allow Chhatrapati Shivaji's Maharashtra to fall prey to your tactics.
Maharashtra was, is, and will stay as one," he said addressing a rally at Phaltan in Satara district.  BJP has been a votary of a separate Vidarbha state, which Shiv Sena has consistently opposed.  
BJP has recently been trying to woo the Marathi voters, who form Shiv Sena's support base, by appropriating its slogan of "Jai Bhavani, Jai Shivaji" and its campaign advertisements splashed across English and vernacular dailies carry a catchline "Shiv Chhatrapati Ka Aashirwad, Chalo Chalein Modi Ke Saath (with blessing of Shivaji, let's walk alongside (Narendra) Modi."
Shiv Sena chief's fulmination against BJP over its stand on Vidharba while invoking the Maratha king was apparently aimed at neutralising the latter's effort to claim his party's enduring icon.
Addressing another rally at Parbhani in Marathwada region, Uddhav ridiculed BJP for seeking Shivaji's blessings during the poll, saying the party never even cared to celebrate Shiv Jayanti.
Uddhav said if the Sena could help BJP's rise in Maharashtra, it can well be the cause of its downfall.  "BJP has betrayed the blessings given to it by my father (Bal Thackeray).
People are watching everything and they know the truth.
If we can stand behind you when you were a non-entity in the state to make you an important political player, we can certainly be the cause for your downfall as well," the Sena leader said.
Even as Shiv Sena chief talked tough, senior BJP leader and Union minister Nitin Gadkari described the split in the saffron alliance as "unfortunate and painful" and went on to say his party may consider forging a post-poll alliance in Maharashtra "if the situation arises" as the two parties had been bound by a common "Hindutva" ideology.  
"If the situation arises, we can certainly think of that. Shiv Sena has been our ally, bound together by Hindutva," he told a Marathi TV channel.  
"We have the same amount of love for Bal Thackeray as we have for Atalji," he said, apparently trying to keep Shiv Sena in good humour despite the bitter parting of ways.
Gadkari also said the lone Shiv Sena member in the Union Cabinet Anant Geete need not resign and that nobody from BJP had asked him to step down.
Uddhav had on Monday said a decision on whether to withdraw from BJP-led NDA would be taken only after discussing the issue with Prime Minister Narendra Modi on his return from the US.
"Joining NDA and then pulling out is not that easy.  
All MPs who have been elected and those who could not win have bagged votes of both Shiv Sena and BJP. It is the people's mandate. A decision will be taken after discussions with Prime Minister Modi and considering what our supporters feel," he had said.
Meanwhile, breaking his silence over the break up with Shiv Sena, BJP veteran L K Advani, who had been close to Bal Thackeray, said he would have been happier if the alliance had continued.
"I would have been happier if this (alliance) had not been broken.
But, this is also right that people from our party were saying that the seat-sharing formula was not proper and we (BJP) should get more seats," Advani, who has been pushed to the sidelines in the party and is largely not involved in decision-making, told reporters in Ahmedabad.  
He said Uddhav had called him up after BJP ended its 25-year-old alliance with Sena after which he had spoken to Gadkari, who said he was dealing with the issue.