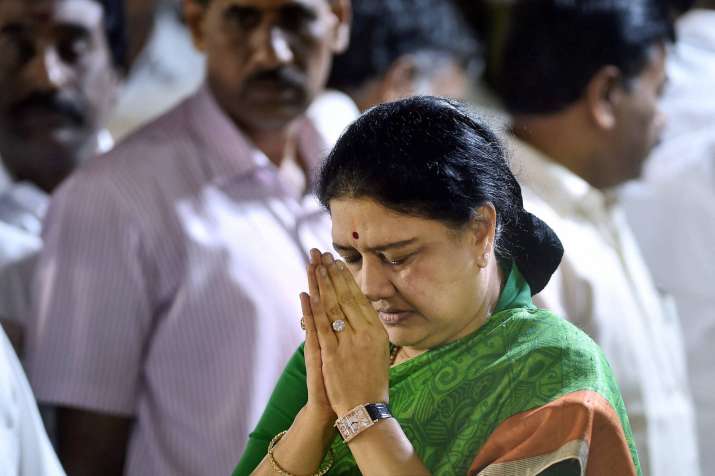 A team of Tamil Nadu Police and revenue officials today visited a luxurious resort at Koovathur near Mahabalipuram where they met 120 MLAs of the AIADMK who are allegedly held captive by the Sasikala camp.
The officials arrived here at 6:30am and inquired about their alleged detention by AIADMK supremo and CM-designate Sasikala.
According to a report in Times of India, teams, led by additional Deputy SP Tamilselvan and district revenue officer Ramachandran met each and every MLA staying here since Wednesday night.
The independent inquires by the police and revenue department officials are being done at the behest of Madras High Court. The court had yesterday directed the police to file an affidavit on the status of ruling party AIADMK MLAs who are reportedly lodged at two different resorts outside Chennai.
It is learnt that the officials questioned them whether they have been confined at the resort or they have been staying there voluntarily.
Tamilselvan said that the teams will submit the individual written statements of all MLAs staying in the resort to the court on Monday.
Speaking to reporters outside the resort, two MLAs -- V Panneerselvam of Kalasapakkam constituency and K Mohan of Cheyyar, said that they were not threatened or compelled to stay in the resort and that they are facing death threat from caretaker CM O Panneerselvam's camp.
"We came voluntarily to stay together. We preferred to stay in the resort here for our safety. We face murder threats," the Kalasapakkam legislator said.
Calling OPS is a betrayer, he said, "We have not been kidnapped. It is Panneerselvam has been kidnapped by the DMK. Chinnamma (Sasikala) will form the government as soon as the Governor invites her."
Mohan said that 'no one other than Sasikala was qualified to lead the party and government'.
"She has been devoted to Amma for 33 years. She will lead the party and govern with the same devotion," the lawmaker said.
The OPS had moved to the court claiming that 120 MLAs have been kept hostage by the Sasikala camp. Following this, the HC ordered the police to visit the resorts and submit an affidavit on the status of ruling party MLAs.
According to reports, more than 90 AIADMK MLAs have been camping at a beach resort in Koovathur near Mahabalipuram since Wednesday night. Another 30 party MLAs are in another resort at Poonthandalam near Kalpakkam.