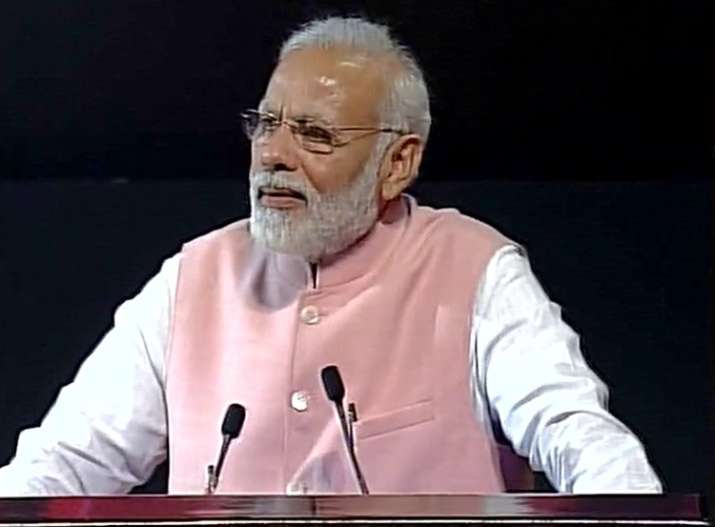 In a veiled attack on Pakistan, Prime Minister Narendra Modi on Saturday said that there is an ideology in South Asia which breeds, inspires and encourages terrorism. 
At an event to honour martyrs of the 1971 Bangladesh liberation war, he said there were three main ideologies in South Asia at present.
"Our region is defined by three ideologies, which are a reflection of the thinking of the society and government. One thought is focused on economic development, to take all social groups along. Bangladesh is an example of this.
"The second thought is 'Sabka Saath, Sabka Vikas' (bringing everyone together for development)... Every neighbouring country of India should also prosper. Development of India alone will be incomplete," said Modi.
In a reference to Pakistan without naming it, he said there is a third type of mentality that keeps terrorism above humanity.
"But the sad thing is contrary to India and Bangladesh's ideology, there is a mentality in South Asia which encourages and patronises terrorism. A mindset that promotes terrorism, which has a value system which is not based on humanity, but on violence and extremism."
"The main aim is to spread terrorism. A mindset in which policy makers feel terrorism is bigger than humanity, destruction is bigger than creation and betrayal is bigger than trust. This mentality is the biggest challenge to peace, social harmony and development. This mentality obstructs development in whole region," Modi said, adding India and Bangladesh are its victims.
"We wish that citizens of all countries move towards development. But for this terrorism, and terrorist mentality has to be abandoned," he added.
As tributes were paid to martyrs of the Bangladesh liberation war, Modi also said it was time to reject the mentality that led to the killing of thousands of innocent people.
He said it was an occasion to also remember the thousands killed in Bangladesh by the Pakistani Army and its militia allies.
"It is also a time to remember the cruel attack on Bangladesh that took thousands of lives. I thank Bangladesh for this emotional initiative," Modi said.
He also said a whole generation, including himself, was influenced by the life of founding father of Bangladesh, 'Bangbandhu' Sheikh Mujibur Rehman.
Earlier, PM Modi, along with Bangladesh Prime Minister Sheikh Hasina, paid tribute to Indian soldiers martyred in 1971 war at Manekshaw Centre for Sommanona Ceremony here. 
Sheikh Hasina also visited an exhibition at the venue on the war and met veterans who had served in the war which led to the break up of then East Pakistan and the formation of an independent Bangladesh.
The visiting Prime Minister said she was grateful to the people and the government of India for their contribution to her country's liberation.
"I am grateful to the government and people of India for their contribution to Bangladesh's war of Independence. Many Indian soldiers sacrificed their lives... We will always remember them with gratitude," Hasina said at an event in the Manekshaw Centre here.
Manekshaw Centre is named after S.H.F.J. Manekshaw, who headed the Indian Army in the 1971 war.
Hasina honoured the kin of Lance Naik Albert Ekka (Param Vir Chakra), Maj. Anup Singh Gahlaut (Maha Vir Chakra), Subedar Malkiat Singh (Maha Vir Chakra) and Sepoy Anusuya Prasad (Maha Vir Chakra), Lt. Samir Das, Squadron Leader A.B. Samanta and Lance Naik Mohini Ranjan Chakraborty.