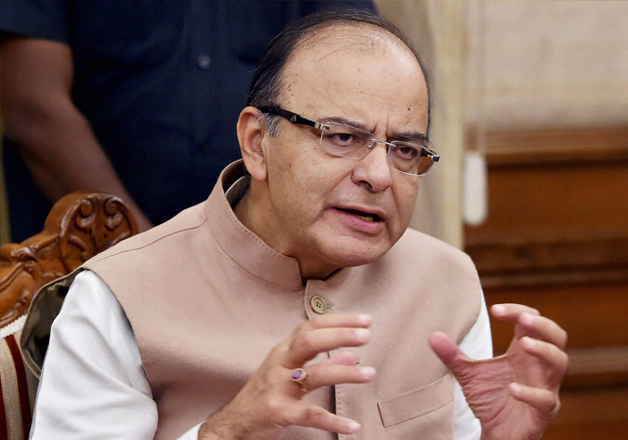 Union Finance Minister Arun Jaitley today slammed the opposition parties for indulging in politics over the suicide of an ex-serviceman, allegedly for delay in the implementation of One Rank One Pension (OROP) scheme.
Rubbishing the Congress and AAP's claim that the OROP was not rolled out in its original form, he said, "No one should try to change a personal tragedy into political gain especially a party whose fortune is already sinking."
Jaitley also promised to resolve the 'pending' issues related to the OROP, saying, "Some people (ex-servicemen) said that a few of their issues are unresolved, Govt made Justice Reddy committee to address that."
Putting out facts in public domain, he said, "UPA government had made a provision of only Rs 500 crore for OROP."
The Finance Minister's remark came in the wake of Congress' party claim the NDA government has not only gone back on its promises on OROP but also diluted the erstwhile UPA government's order on it.
It should be noted that the UPA-II government had in its interim budget of 2014-15 announced the implementation of OROP and allotted only Rs 500 crore for it. But the NDA government had in its very first Budget announced an allocation of Rs 1000 crore for OROP. 
He said that the government will have to bear additional financial burden of Rs 8,000-10,000 crore this year due to OROP. 
Jaitley further said that the Narendra Modi government implemented OROP in its fullest form. 
"Fitment of pension amount to be reviewed every five years as against 10 years for govt employees," he said.
When specifically asked how the discrepancies or anomalies occurred during the pension disbursement to military veterans, he said, "When such huge amounts are disbursed a few calculation mistakes have happened from the bank side. Government has allocated all money, there seems to be problem at bank level, this was a procedural problem that could be resolved at bank level."
Jaitley also said that the government fully sympathises with the defence personnel and also with the family of Ram Kishan Grewal who committed suicide allegedly over delay in the full implementation of the OROP scheme. 
On Minister of State for External Affairs VK Singh branding the deceased as a Congress worker, he said all leaders must be "sensitive" to the suicide. 
"Everybody has to be sensitive... we must appreciate the sensitivity of the person who under stress has committed suicide. I do sympathise with him and all our comments have to be sensitive on this issue," he said.
A major political war erupted after the tragic suicide of Grewal over the OROP scheme. Opposition parties have attacked the BJP-led NDA government at the Centre for not implementing the OROP in its original form.