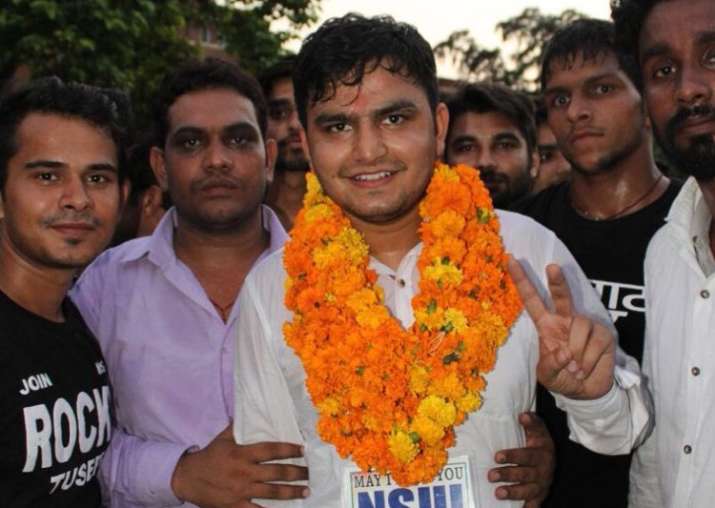 In a stunning comeback, the National Students Union of India (NSUI), the Congress' students wing, on Wednesday bagged three of the four top positions -- President, Vice President and Joint Secretary, in the Delhi University Students Union (DUSU). The RSS-affiliated Akhil Bharatiya Vidhyarthi Parishad (ABVP), however, managed to win only the Secretary post. On Tuesday, students from 51 colleges cast their ballot to choose the four central panel posts in the DUSU elections that saw a triangular fight among the ABVP, NSUI and CPI-ML Liberation's AISA. A total of 43 per cent voter turnout was recorded.
Last year, the Akhil Bharatiya Vidhyarthi Parishad (ABVP) had won three seats, except the Joint Secretary post, which was won by the NSUI.
Here's who said what: 
Rahul Gandhi, Congress vice president: Congratulations NSUI on a stellar performance & Pres win in DUSU! Thank students of DU for reposing faith in Congress ideology
Ajay Maken, Delhi Congress chief: Congratulations NSUI. Won 3 out of 4 seats in DUSU including President
We don't accept this revised result. #NSUI won 3 seats not 2. This is manipulated by BJP. V r going to High court: .@girishgoa #DusuElection pic.twitter.com/ULt8DKIaTA

— Supriya Bhardwaj (@Supriya23bh) September 13, 2017
Shashi Tharoor, Congress leader and former Union minister: Congratulations NSUI on an outstanding performance in DUSU election 2017. A triumph for liberal values on campus. NSUI wins DU Proud of you!
                                                                                                                                                
Gurmehar Kaur, Lady Shri Ram student: Congratulations to every DU student, you've reclaimed your university back. You've proved violence and hooliganism will not be tolerated!
CP Joshi, Congress leader and former Union minister: Congratulations @nsui for huge victory in #DUSUelection2017.
Sanjay Nirupam, Congress leader: बोल कि लब आज़ाद हैं तेरे! Spectacular victory of NSUI in DUSU. Big jolt for BJP's #ABVP. Goondagardi in the name of nationalism rejected 
Randeep Surjewala, Congress spokesperson: Rajasthan, Punjab & now resounding victory of NSUI is a rejection of false promises of 'Acche Din' of Modiji. Youth for Change will change Modi Govt. Wake up call for PM Modi. Young demand employment, opportunities & freedom. 'Youth for Change' rejects falsehood of 'Acche Din' as jobs evaporate, opportunities diminish & freedom is curtailed.
More feathers to our cap. NSUI won Vice President , AGS & Game Secretary posts in Gauhati University election, Assam. Congrats @NSUIAssam pic.twitter.com/xI1GPsHXlt

— NSUI (@nsui) September 12, 2017
Priyanka Chaturvedi, Congress spokesperson: Rajasthan, Punjab and now Delhi University all have chosen to be free from RSS-BJP's goondagardi wing aka ABVP. Badhai!
Hasiba, national general secretary of NSUI: Congress has given India 1st woman PM, President, LS speaker, governor,CM, party President& of course MoD. Glass ceiling broken ages ago!
Gurudas Kamat, Congress leader and former union minister: Heartiest Congratulations to NSUI for a tremendous victory in DUSU Elections! My best wishes to the whole team.
Ahmed Patel, Congress leader: Many congratulations to the NSUI President & his team for the terrific performance in the DUSU elections
Sushmita Dev, Mahila Congress president: The tide is turning... Congratulations NSUI for winning DUSU 
NSUI's Rocky Tusheed won the president's post by a margin of 1,590 votes. Kunal Sehrawat defeated the ABVP candidate by 175 votes to claim the VP post. ABVP's Mahamedha Nagar defeated NSUI's Minakshi Meena by 2,624 votes to win the post of secretary while party's joint secretary candidate Uma Shankar defeated NSUI's Avinash Yadav 342 votes.