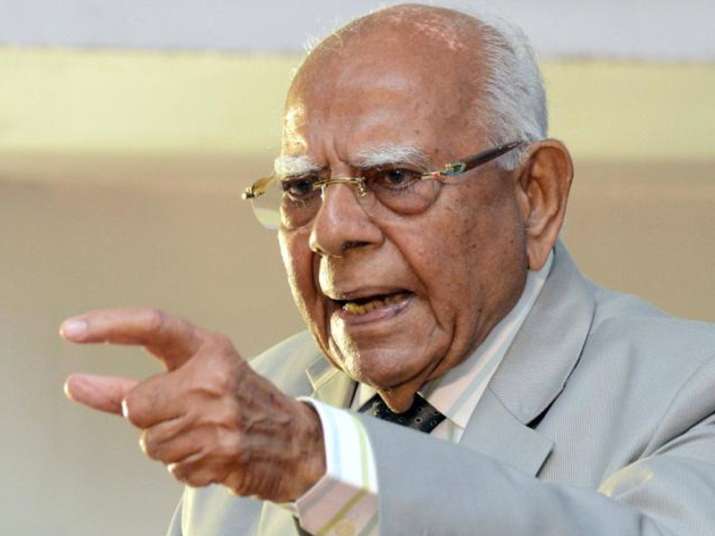 Country's top lawyer Ram Jethmalani has suggested that the Government of India must seek from Pakistan a copy of the judgement awarding death sentence to former navy officer Kulbhushan Jadhav.
Jethmalani said that the copy was required to study the grounds on which he has been convicted.
"We want to know whether the sentence is right, and right as in, whether the conviction is right, then the question comes of what kind of punishment for that. Suppose he has been convicted on stupid evidence, then that makes a much stronger case for India," he told reporters yesterday on the sidelines of a conference on 'Improving Indo-Pak Relations' at the India International Centre here.
The event was also attended by Pakistan High Commissioner Abdul Basit, its former foreign minister Khurshid Mahmud Kasuri and senior Congress leader Mani Shankar Aiyar. 
At the end of the conference, commotion prevailed briefly at the venue, as several members of the media mobbed Basit and Kasuri with a volley of questions, against the backdrop of widespread outrage in India over the death penalty to 46-year-old former officer on charges of alleged espionage and sabotage activities. 
"Reactions are flying thick and fast from every side, and media is also reacting to it strongly. But, one must know on what evidence he has been convicted, first of all. I should read what is the charge and what is the evidence on which they (Pakistan) have acted, and why this death sentence. Death sentence is justified only in those cases in which you cannot imagine a more serious offence, that is the law, as far as I can see," Jethmalani said. 
The 93-year-old lawyer, who was born in Sindh province (now in Pakistan) of undivided India also urged media to exercise restraint while asserting both the countries must continue to engage peacefully to resolve outstanding issues. 
"Today people are giving opinions on the case (Jadhav's) without reading the judgement. I have not read it, and I do not want to aggravate the situation. But, whole press seeking opinions, have they read the judgement, nobody. We have made our stand, but we want to see the judgement. So, we (India) must ask from Pakistan the certified copy of the judgement.. Before we burn bridges, we need to think properly," he said. 
Asked if Pakistan would be willing to share the copy of the order, he said, "Have we asked for it, that it has not been given." 
Former chief of the Research and Analysis Wing (RAW) AS Dulat described the situation as "crazy". 
"The whole episode surrounding Jadhav's case is so crazy. I wonder if Pakistan would be willing to share anything," he said on the sidelines of the event.