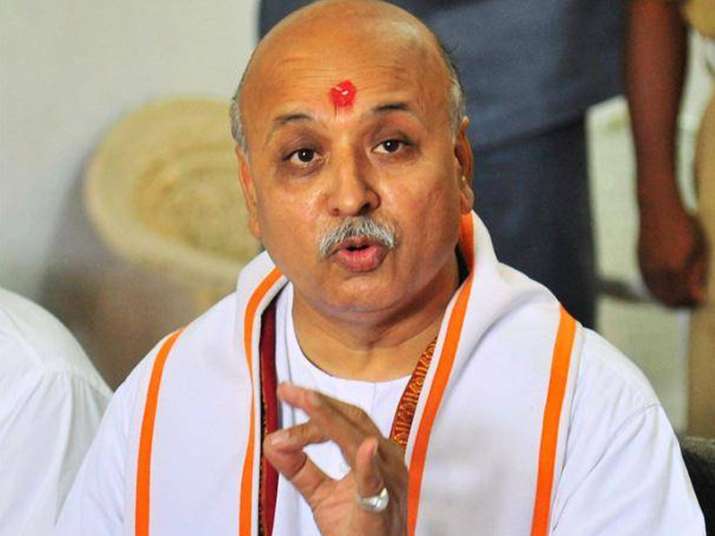 Vishwa Hindu Parishad (VHP) international working president Pravin Togadia today said that a conspiracy was hatched against senior BJP leaders including LK Advani and MM Joshi in connection with the Babri Masjid demolition case. 
Reacting to the Supreme Court's order to restore trial of Advani, Joshi and others on charges of criminal conspiracy, Togadia demanded that the government contest the CBI's plea before a larger bench to deliver justice in the case.
"If you have to file a conspiracy case, file it against Babar and his descendants who are living in Hindustan," the VHP leader said.
"The government should immediately challenge the CBI's petition before the largest bench of the Supreme Court," he added.
The firebrand leader also asked the government to bring a legislation in Parliament to build a grand Ram Temple at the disputed site in Ayodhya. 
"Will Advani, Joshi be put behind the bars at this age?" he questions. 
"This is an insult to Hindus. They (Hindus) will be compelled to take revenge," he said.
Lashing out at the CBI, he said, "Ultimately the CBI, which is controlled by the Centre, today made the court declare Hindus conspirators," Togadia noted. 
"Why did the CBI contest the UP court's verdict in the Supreme Court? All leaders must not be touched as per the court's order," he said. 
Earlier in the day, the Supreme Court revived the conspiracy charge in the 1992 Babri Masjid demolition case against senior Advani, Joshi, Kalyan Singh and Uma Bharti, among others.
The court also transferred their trial from Rae Bareli to Lucknow. Besides, it said that the trial court in Lucknow will frame additional charges against Advani and others and proceed against them.
The apex court verdict was on a CBI plea challenging the May 2010 Allahabad High Court order quashing the conspiracy charge against Advani and others. 
Advani and Joshi, along with Uma Bharti and Vinay Katiyar (BJP), Sadhvi Rithambra, Acharya Giriraj Kishore, Ashok Singhal and Vishnu Hari Dalmia (VHP) were facing trial for making speeches from the dais at Ramkatha Kunj prior to the razing of the 16th century mosque in Uttar Pradesh's Ayodhya on December 6, 1992 by Hindu right-wing activists. The spot was just 200 metres away from the disputed structure.