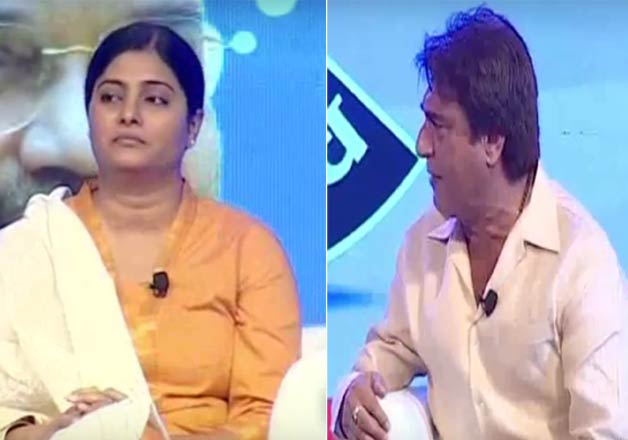 Union Minister Anupriya Patel and Uttar Pradesh Congress chief Raj Babbar today got into a heated argument over caste and dynasty politics and went on to exchange high-pitched barbs against each other.
Speaking at a panel discussion during India TV conclave 'Chunav Manch' in Lucknow, Anupriya Patel, an MP from UP's Mirzapur, said that she was made a minister by Prime Minister Narendra Modi based on her competence and questioned the abilities of Congress vice-president Rahul Gandhi.
When confronted by Patel on work done by grand old party for upliftment of Dalits, Raj Babbar said that Dr Bhimrao Ambedkar had worked with the grand old party on which Patel retaliated that the Congress played a role in defeating Babasaheb Ambedkar in 1951–52 General Elections.
Patel alleged that Congress has not been able to address the problems of farmers even as it ruled for almost 60 years in the country.
She also said that Congress failed to implement the reservation policy in a full-fledged manner.
 Babbar argued that reservation is Congress' gift to country to which Patel said, reservation was brought under VP Singh's government.
Raj Babbar alleged that Patel was speaking in a loud voice and started speaking loudly himself.
The actor-turned-politician said that he respects women but Patel was making noise and he could also raise his voice as he has made it his profession to raise voice whenever required.