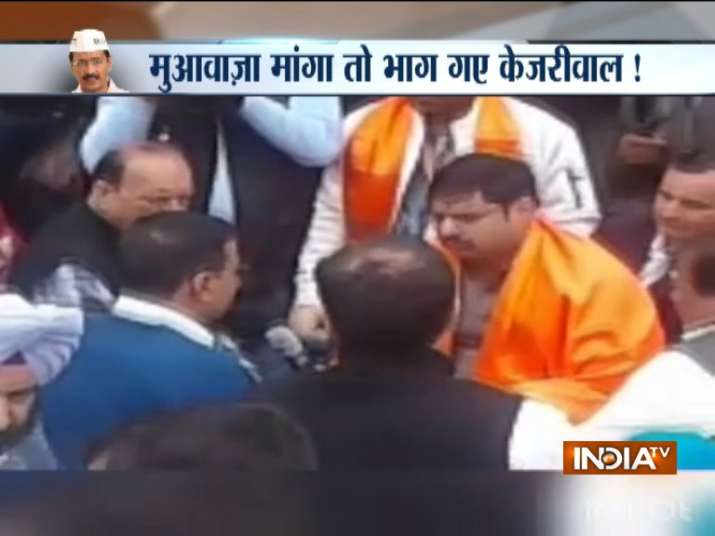 Delhi Chief Minister Arvind Kejriwal left midway the prayer ceremony of honour-killing victim Ankit Saxena, following demands of compensation worth one crore rupees to the family.
A video clip of the incident has gone viral. In the video, CM Kejriwal is seen leaving the prayer venue. He is also heard saying that it is unjust to debate over the amount of compensation being given. Even as the family members told Kejriwal it was a matter of their livelihood, the chief minister left the spot without answering them.
After the payer meet, Delhi CM came under heavy criticism from Congress and BJP. Manoj Tiwari, BJP Delhi president, termed Delhi CM's behaviour insensitive and unprecedented. 
After being criticised, the Delhi government announced Rs 5 lakh for Ankit's kin but it was rejected by the family.
According to PTI report, Kejriwal had assured the family of every possible help during the prayer meeting. 
"Don't hesitate to come to me whenever you (Saxena's family) are in the need. I will personally be in contact with you," Kejriwal said at the condolence meeting, PTI reported.
Ankit Saxena, a professional photographer, was stabbed to death in west Delhi's Khyala area earlier this month, allegedly by the family members of a woman with whom he was in a relationship for three years. 
The woman's family had opposed her relationship with Ankit as the two belonged to different communities.  The woman's father, mother and uncle have been arrested in connection with the killing while her minor brother has been apprehended.