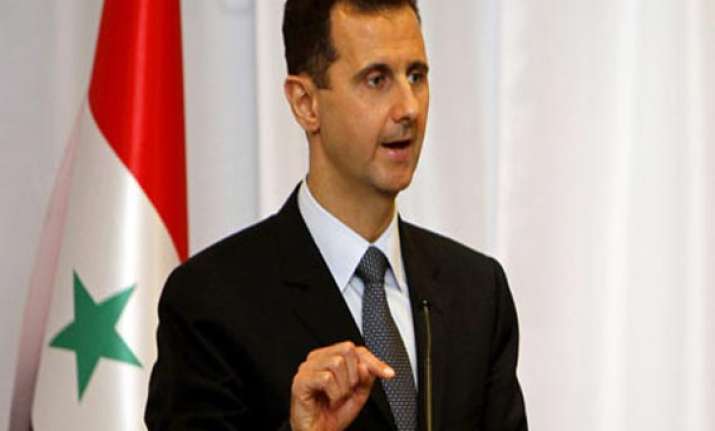 Cairo: The US and UK today appeared to have backed down from an immediate punitive military strike against Syria, even as embattled President Bashar al-Assad vowed that his country would emerge "victorious" in any confrontation with America and its allies.
A strike by Western forces had appeared imminent but US allies were increasingly reluctant to act before hearing the results of a UN probe into the alleged poisonous  gas attacks in the war-torn country on August 21. 
President Barack Obama has said he had not yet decided whether to attack Syria in response to alleged use of chemical weapons by the Assad regime, but a strike still appeared likely as the US stopped seeking a UN mandate.  
"We have not yet made a decision, but the international norm against the use of chemical weapons needs to be kept in place. Hardly anybody disputes that chemical weapons were used on a large scale in Syria against civilian populations," Obama told the PBS News Hour in an interview.  
Britain could also launch strikes against the Syrian regime without the backing of the United Nations, according to its own legal advice. The advice states the legal basis for any such action would be "humanitarian intervention", even if UN permanent members Russia and China block it.  
Prime Minister David Cameron, in an emergency debate on Syria in the UK parliament in London today, said British intelligence chiefs believed it "highly likely" the Syrian government was responsible for the 21 August attack.  
Cameron told MPs - who were recalled early from the summer recess to debate the issue - that there was not "one smoking piece of intelligence", but insisted he was convinced it was "beyond doubt" the Syrian regime was behind the attack. "In the end there is no 100% certainty about who is responsible." Arguing in favour of military intervention, he said, "It's not about taking sides in the conflict, it's not about invading, it's not about regime change or indeed working more closely with the Opposition. It's about the large-scale use of chemical weapons and our response to a war crime - nothing else."
Earlier, the UK said it would wait for a report by UN weapons inspectors before seeking the approval of MPs for "direct British involvement" in Syria. Downing Street said the decision to wait for the UN was based on the "deep concerns" the country still harbours over the Iraq War.  UN chief Ban Ki-moon today pleaded for more time for diplomacy and to allow UN investigators to complete their probe on suspected chemical weapons attacks. He said the investigators will leave Syria by Saturday morning.  "Diplomacy should be given a chance...peace (should) be given a chance," Ban said in Vienna.
Meanwhile, President Assad remained defiant amid heightened tensions, saying "Since the start of the crisis, as you know, we have waited for our true enemy to reveal itself." "I know that your morale is good and that you are ready to face any attack and to save the homeland," Al-Akhbar newspaper quoted Assad as telling Syrian officials.  "It's a historic confrontation from which we will emerge victorious," the paper quoted him as saying.