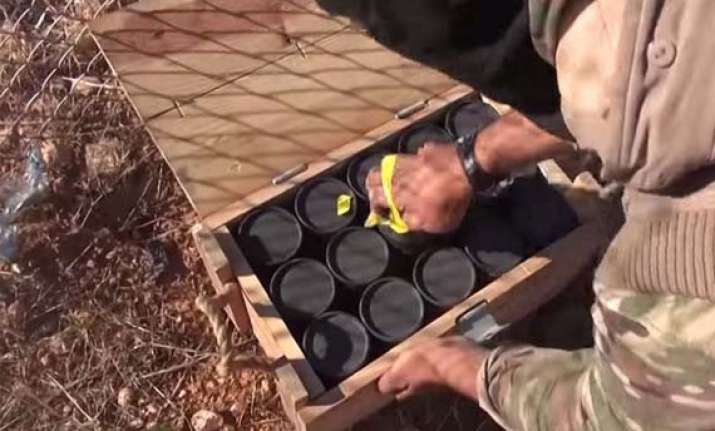 Washington: The US today confirmed that the Islamic State has seized at least one bundle of arms supply airdropped by it for the Kurdish fighters near the Syrian town of Kobani.
"Yesterday we announced that one re-supply bundle went astray and was destroyed. We have since re-looked at that and we have determined that a second bundle also went astray and probably fell into enemy hands," Pentagon Spokesperson Army Colonel Steve Warren told reporters during an off-camera news conference.
"One bundle worth of equipment is not enough equipment to give the enemy any type of advantage at all," Warren said.
"It's a relatively small amount of supplies. This is stuff ISIL already has," he said.
Early this week, the US Air Force C-130 aircraft airdropped 28 bundles of weapons, ammunition and medical supplies for Kurdish fighters to help them defeat the Islamic State of Iraq and the Levant or the Islamic State terror group as it is known as across the globe.
The supplies were provided by Kurdish authorities in Iraq and intended to enable continued resistance against ISIL's attempts to overtake Kobani.
The State Department, however, refuted the ISIS claims that it seized American weapons.
"A second re-supply bundle was not recovered and may have been seized by ISIL. It is therefore possible that the video yesterday could be that of the missing bundle. The allegations, though, that were made that they were America- made weapons here that were recovered is not true because we did not drop any American-made weapons," State Department Deputy Spokesperson Marie Harf told reporters.
Acknowledging that all military missions incur some risk, Harf said that the alternative of doing nothing, of not making sure these fighters pushing back ISIL on the ground in and around Kobani have the weapons and the ammunition they need and the medical supplies they need, is not a viable option.
"This is a small amount of risk. In this case obviously this is a very small amount that may have fallen into the hands of someone else, but we believe that the over-riding national security imperative to take the step is important enough," she said.