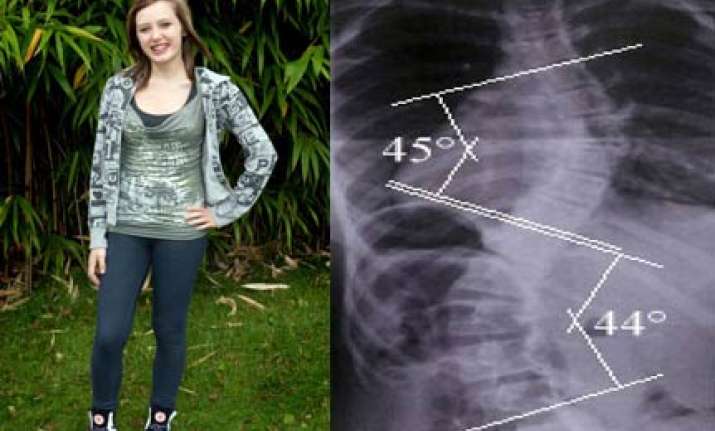 A teenage girl who was warned her curved spine could leave her in a wheelchair has defied doctors and taken up breakdancing after undergoing yoga exercises, reports Daily Mail, London.
Mia Latham, 13, was diagnosed with an S-shaped spine when she was just 11. She was told she would need metal rods inserted into her back to prevent damage to her heart and lungs.
But the determined youngster decided to take up yoga to try to straighten her spine without doctors' help.
 
Incredibly, Mia says the intense programme of exercises has managed to reduce the curve in her spine. She added that doctors said there is now no need for her to have the operation.
The sporty teenager has now taken up breakdancing - bending her body into all kinds of awkward positions.
Just 12 months after she was diagnosed, Mia can now perform a routine of body-popping moves similar to those performed by Britain's Got Talent star George Sampson.
 
However, a spokesman from the Scoliosis Association (UK) told Mail Online: 'The scientific evidence that extensive exercise "cures" scoliosis is sparse.
'In mild curvatures, intensive exercise can improve posture, muscle strength (thereby supporting the spine more efficiently), flexibility, and appearance, but there is no long-term evidence that it will ultimately prevent the progression of a curve.' 
Despite this, Mia's mother, Louise, said she is amazed by her daughter's transformation.
Louise, from Dawlish, Devon, said: 'I am blown away with the progress Mia has made.
'There is such a difference in her - her confidence has grown enormously.
'There used to be a very obvious bend in her spine - it made her quite self-conscious.
'We were devastated when she was diagnosed with scoliosis - and when the doctors told us about the operation they wanted her to have, we were horrified.
'Her young organs were being crushed as her spine continued to bend sideways - I wasn't thrilled at the prospect of her being sliced open.
'I spent hours trawling the internet before I came across a clinic that specialises in helping scoliosis sufferers improve the bend of their spine.'
Kylie Hobson, from the Scoliosis SOS clinic, said: 'Mia's scoliosis was very visible through her clothes, her shoulders were not level and neither were her hips.
'If Mia had had the operation she would have lost all flexibility - she would have been fused straight.
'The surgical procedure involves the vertebral disks being removed and then ground down to a paste, which is then used to fuse the spine solid.
 
'Metal rods are then inserted into either side of the spine and secured with screws.
'At our clinic, Mia underwent various balance exercises, including using wall bars, wooden poles and exercise balls.
'If she had not come to use for treatment and not had surgery  it is very possible she would have ended up in a wheelchair.'
However, the spokesman from the Scoliosis Association (UK) said: 'Specialists undertake surgery only if it is essential for the long-term health of the individual; how much of the spine is fused will depend on the position and severity of the curve, and great care and consideration is taken to minimise the effect on spinal flexibility.
'The dangers of surgery are overstated. Serious complications are very rare indeed.
'Staying fit and active and keeping the core muscles strong is highly desirable for everyone, and especially so for people with spinal conditions; however, a life-long programme of specific exercise is a huge commitment, with no guarantee of long-term success.'
The treatment Mia underwent is not currently available on the NHS - something which her mother is campaigning to change.
Louise added: 'It's disgraceful that most scoliosis patients don't even know that the treatment Mia had is available.
'Scoliosis affects up to four per cent of the population, and I can't believe that more people aren't able to help themselves like Mia has.'
Mia said: 'Being able to avoid the surgery was amazing. There are so many awful things that can go wrong with the operation and for me it just wasn't worth the risk.
'I love dancing and if I had had the surgery this would have been seriously detrimental to my flexibility.'