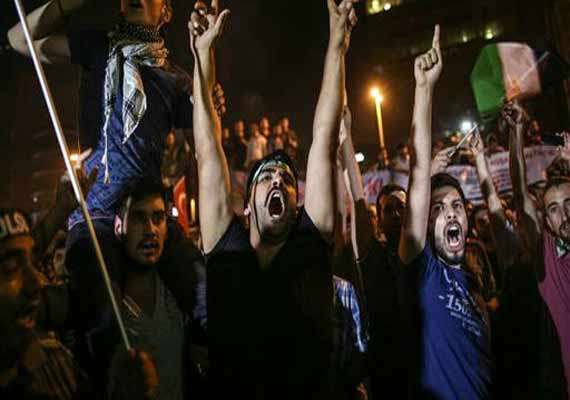 Istanbul: Almost 5,000 pro-Palestine protesters staged a demonstration against Israeli attacks in Gaza late Saturday night.
Responding to a protest call by Turkish humanitarian aid foundation IHH, people started to gather in front of the Israeli consulate after the feast breaking time. It was to last till 2.00 a.m., Xinhua reported.
The protesters carrying Palestinian flags, raised slogans like "Murderer Israel, get out of Gaza" together. They also burned an Israeli flag.
Most of the protesters brought their children to express their solidarity with the Palestinian families who lost their kids during the Israeli attacks. Many carried banners reading appeals like: "Don't kill babies".
The Turkish riot police had heavy security measures in place, deploying 0 water cannons before and near the consulate while more were positioned at the building's entrance.
Turkish President Abdullah Gul said Saturday that the entire Turkey condemned Israeli attacks against Palestinians.
Earlier during another protest Thursday, demonstrators threw stones at the consulate as they tried to get into the building by jumping over the walls. Riot police had to fire water cannons to disperse the crowd.
As the Thursday's demonstrations turned violent, Israel decided to reduce its diplomatic personal to the lowest required level. Israeli foreign minister accused Turkey for not taking necessary security measures.