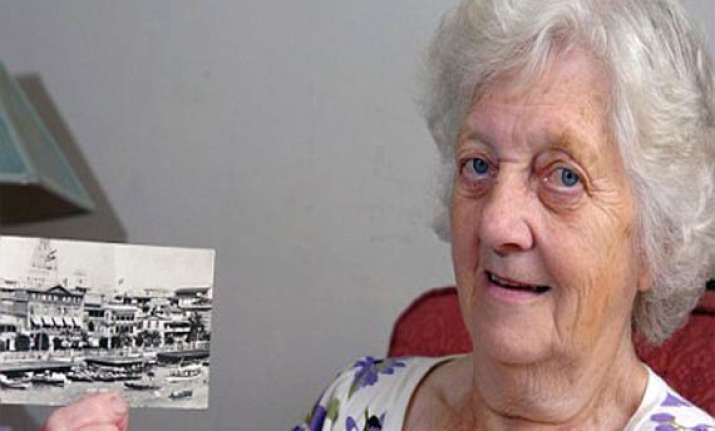 London, Aug 15:  When 80-year-old Margaret Eastham in Lancashire picked up the black-and-white card delivered by the postman, she was stunned to read who it was from.
The cheery message was from her sister-in-law, Dorothy, who died four years ago – and was written way back in 1954 when she was emigrating to Malaysia, says a Daily Mail report.

Extraordinarily, the card took 57 years to make its way from a postbox in modern-day Yemen – where her ship had made a stop – to Preston, Lancashire.


Fortunately, retired florist Mrs Eastham still lives in the same house, and was able to marvel at the relic from a bygone decade.

'I really couldn't believe my eyes,' the grandmother-of-seven said  on Saturday. 'My first thought was that it was from my neighbours who are in India, but then I recognised the writing as Dorothy's, only she died four years ago.

'When I saw the date on the postmark, I was really taken back. It is amazing really that after all this time it still arrived. And it is in excellent condition.
'It is certainly a turn-up for the books.'


Back in 1954, Duncan, the brother of Mrs Eastham's husband Merrick, had emigrated to what was then Malaya to work in the rubber plantations.

That December, his new wife Dorothy bought a one-way ticket to join him there, finding time to send the card back to England part-way through her six-week journey by sea.

The card – bought in the Egyptian city of Port Said and written on board – tells how Dorothy is finding the climate 'hot, happy and lazy!'

She writes: 'Went ashore yesterday in Port Said, and was very excited to see all the queer people and places.

'Bought some lovely deep red roses, and am smelling my cabin out with them. Beautiful!

'A happy Xmas everyone, I will be thinking of you all.'

It was posted in Aden on December 23 after the ship had passed through the Suez Canal and has a 50 cent stamp decorated with a map of Arabia and a 10 cent stamp bearing an image of camels.

'I kept reading it over and over again to make sure,' said Mrs Eastham. 'I'm not a superstitious person but it was really nice seeing it after all this time.'

The house to which the card was addressed was then her husband's family florists shop which they later took over, converting into a home after their retirement.

Her brother-in-law and his wife did not stay in Malaya for long, returning to England in 1957 after she became pregnant with their only daughter, Dawn, who has learning difficulties.

They later ran a pub but sadly Mr Eastham died in the 1970s, and Dorothy died four years ago.

Margaret Eastham's husband died 18 months ago, but her children and grandchildren have been fascinated by the piece of family history.

A spokesman for Royal Mail said: 'It is extremely unlikely that this item of mail was in our system all this time.

'It is difficult to speculate what may have happened, but almost certainly it was put back in a post box very recently as we regularly check all our sorting offices and machines are cleared.'