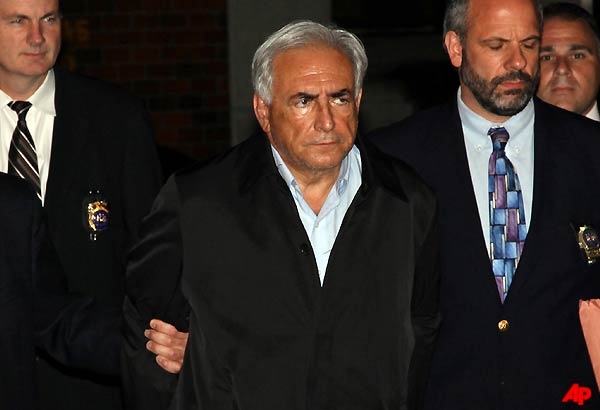 New York, May 16 :  The maid who has accused Dominique Strauss-Kahn, the head of the International Monetary Fund, of sexually assaulting her in his luxury hotel room picked the Frenchman out of a lineup.
Strauss-Kahn was picked out of a police line up by the chambermaid last night, according to media reports.
Strauss-Kahn, a likely candidate for 2012 presidential race in France, has been charged with attempted rape, sexual assault and unlawful imprisonment.
The IMF chief has denied the charges against him.
"Strauss-Kahn will plead not guilty," William W Taylor III, his lawyer, said in a statement.
Strauss-Kahn allegedly sexually assaulted the 32-year-old maid, who happened to be in his USD 3,000 a night suite at the Hotel Sofitel in Times Square on Saturday afternoon, thinking it was empty.
The IMF chief allegedly emerged naked from the bathroom, chased her around the suite to the bedroom and "engaged in a criminal sexual act".
He also allegedly tried to lock her in the bathroom. Before the incident, it was being widely speculated that Strauss-Kahn, a Socialist politician, had a chance at beating incumbent President Nicholas Sarkozy, who is plagued with all time low ratings.
Observers and rivals have said that the alleged charges will ruin Strauss-Kahn's chances at a political career. PTI