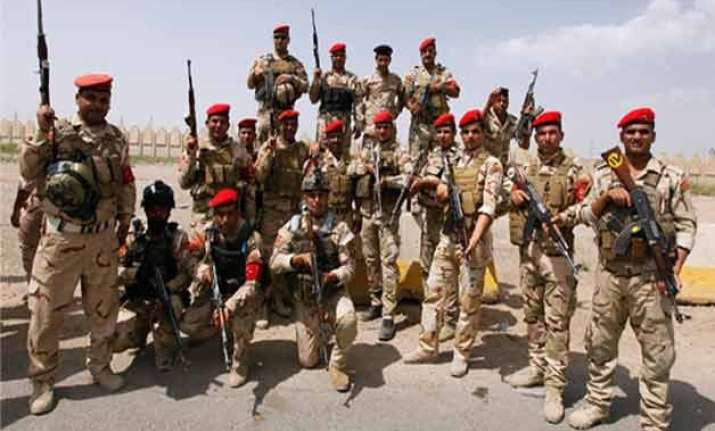 Baghdad: Iraqi security forces on Tuesday retook control of Salahudin's provincial government compound and several presidential palaces from the Islamic State (IS) militants in the provincial capital city of Tikrit, a security source said.
The troops, backed by allied Shia and Sunni militias and covered by US-led coalition and Iraqi aircraft, made significant advance during the past 24 hours, after they seized the government compound, which includes the provincial government building, in the southern part of Tikrit, some 170 km north of Iraq's capital Baghdad, the source told Xinhua news agency on condition of anonymity.
The troops later pushed to the north on the western bank of the Tigris river and seized several presidential palaces of former Iraqi leader Saddam Hussein, the source said.
There are a total of 76 palaces, smaller villas and artificial lakes and date orchards, most of them built near the Tigris river, stretching from northern Tikrit to Saddam's village of Awja, 12 km south of the city.
The troops continued their slow advance and came closer to the central part of the city, he said.
The security forces also made progress in albu-Obeid district in southwestern Tikrit and are expected to reach the IS-held western city of al-Zuhour district, he added.
"At least nine personnel of the security forces and Hashid Shaabi, or Popular Mobilisation, have been killed and 18 others wounded in the battles in Tikrit," the source said citing initial medical reports.
On Monday, the troops reportedly retook control of the main hospital building, which is part of the government compound, and took new positions in the surrounding area as they headed toward the central part of Tikrit.
Late on Wednesday, Iraqi Prime Minister Haider al-Abadi announced that the Iraqi forces started the final phase to liberate Tikrit and the rest of the northern parts of Salahudin province with the assistance of the international coalition air support.
The battles to free Tikrit from IS militants were stalled for about two weeks as the militants planted thousands of bombs and booby-trapped dozens of buildings and cars.
Since March 2, some 30,000 Iraqi troops and thousands of allied Shia and Sunni militias have been involved in Iraq's biggest offensive to recapture the northern part of Salahudin province, including Tikrit and other key towns and villages, from IS militants.
Large parts of the province have been under IS militant group's control since last June, after bloody clashes broke out between Iraqi security forces and the group.