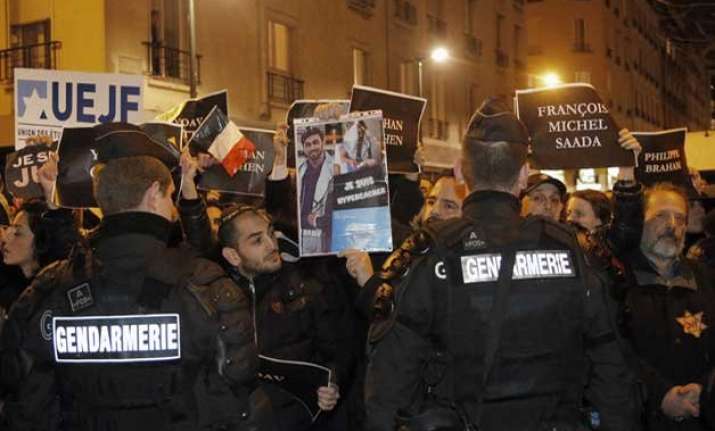 Paris: France vowed to combat terrorism with "a cry for freedom" in a giant rally for unity today after three days of bloodshed that horrified the world.
Police searched for a woman linked to the three al-Qaeda-inspired attackers, but a Turkish official said she appears to have already slipped into Syria.
The rally today is also a huge security challenge for a nation on alert for more violence, after 17 people and three gunmen were killed over three days of attacks on a satirical newspaper, a kosher supermarket and on police that have left France a changed land.
Hundreds of thousands of people marched yesterday in cities from Toulouse in the south to Rennes in the west to honor the victims, and Paris expects hundreds of thousands more at Sunday's unity rally.
More than 2,000 police are being deployed, in addition to tens of thousands already guarding synagogues, mosques, schools and other sites around France.
Unity against extremism is the overriding message for Sunday's rally. Among the expected attendees are the Israeli prime minister and the Palestinian president. The Ukrainian president and Russian foreign minister, And the leaders of Britain, Germany, NATO, the Arab League and African nations. And the French masses, from across the political and religious spectrum.
Top European and US security officials are also holding a special emergency meeting in Paris about fighting terrorism. The rally "must show the power, the dignity of the French people who will be shouting out of love of freedom and tolerance," Prime Minister Manuel Valls said yesterday.
"Journalists were killed because they defended freedom. Policemen were killed because they were protecting you. Jews were killed because they were Jewish," he said. "The indignation must be absolute and total - not for three days only, but permanently."
Al-Qaeda's branch in Yemen said it directed Wednesday's attack against the publication Charlie Hebdo to avenge the honor of the Prophet Muhammad, a frequent target of the weekly's satire.
French radio RTL released audio yesterday of Amedy Coulibaly, speaking by phone from the kosher supermarket where he killed four hostages, in which he lashes out over Western military campaigns against extremists in Syria and Mali.