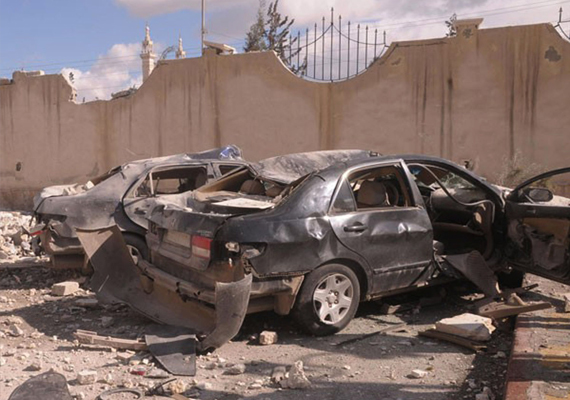 Damascus, Feb 11: Twin car bombs targeting security posts in Syria's second city of Aleppo killed at least 28 people on Friday, state media said, as rebels accused the regime of launching the attacks as a diversion.

The explosions came as tank-backed troops advanced on pockets of resistance in the battered and besieged protest hub of Homs, and as heavy security deployments nationwide thwarted planned protests against regime ally Russia.

The powerful mid-morning blasts ripped through the northern commercial hub, also wounding 235 people, said state television, which broadcast gruesome footage.

Mangled bodies were shown in pools of blood outside rows of shattered buildings and piles of rubble strewn across a broad avenue.

State television called the bombings, the first in Aleppo since the uprising against President Bashar al-Assad's regime erupted almost a year ago, the work of "armed terrorist gangs."

It said a "suicide bomber in a car packed with explosives" had attacked a police station, flattening a nearby food distribution centre. The second targeted an intelligence base.

The rebel Free Syrian Army blamed the government itself for the attacks.

"This criminal regime is... carrying out bomb attacks in Aleppo to steer attention away from what it is doing in Homs, Zabadani and elsewhere," its spokesman, Colonel Maher Nouaimi, said in a telephone interview.

State television showed emergency workers holding body parts, including hands, feet and a torso. Soldiers were among the casualties, it said.

"The number of casualties from the two car bombs in Aleppo has risen to 28 dead and 235 wounded," said the health ministry. Among the dead were soldiers and civilians, including children.

The Syrian Observatory for Human Rights said at least 30 people were killed in the Aleppo blasts.

Several people interviewed on television denounced Turkey and Qatar for not standing by the regime as it seeks to put down the revolt.

"Is this the freedom they want?" asked one angry looking man, holding up a severed arm and referring to those leading the protest movement.

Syria blamed the blasts on "terrorists" backed by Arab and Western nations, in a letter sent to the UN secretary general, the UN Security Council, the Arab League and other organisations.

"Certain countries in the region are behind a propaganda campaign against Syria and are harbouring armed terrorists for so-called humanitarian reasons," it wrote, the official SANA state news agency reported.

Aleppo has been largely spared the unrest that has rocked the country since mid-March and killed more than 6,000 people, say rights groups.

In central Syria, tanks stormed the Inshaat district in Homs overnight as troops launched a house-to-house sweep to crush regime opponents, the Observatory's Rami Abdel Rahman said.

Inshaat is next to Baba Amr district, which has been subjected to a withering assault by regime forces since Saturday that has killed more than 450 people, activists say.

In addition to the victims of the attacks in Aleppo, the Observatory said another 44 people were killed across Syria on Friday -- 28 civilians, nine soldiers and seven deserters.

Security forces deployed heavily outside mosques nationwide, firing on worshippers in some areas to prevent protests denouncing Russia's steadfast support for the Assad regime, activists said.

"Demonstrations broke out in various parts of the country, but they were small in numbers because of the heavy deployment of army and security forces as well as the cold weather," said Abdel Rahman. Internet-based activists had urged protests under the banner of "Russia is killing our children."

But Moscow said Syria's opposition "bears full responsibility" for the ongoing violence, while accusing the West of pushing regime opponents into armed conflict. Arab and Western governments have so far resisted mounting calls for military aid to the outgunned and outnumbered rebels in Syria.

The US ambassador to Syria, Robert Ford, posted declassified photographs on his Facebook site that Washington said shows an army attacking a civilian area of Homs.

State Department spokeswoman Victoria Nuland said the "declassified US national imagery" shows the destruction of Homs. She said Ford, who left Damascus when the US embassy was closed for security reasons on Monday, would continue to use Facebook to "talk to the Syrian people on a regular basis, along with his Twitter feed."

EU foreign policy chief Catherine Ashton said the world had to stand united in demanding a halt to the violence and for Assad to step down, saying she was appalled by reports of "the brutal attacks by the Syrian armed forces in Homs."

Saudi King Abdullah said world confidence in the United Nations had been "shaken" after Russia and China vetoed a resolution condemning the Assad regime's crackdown.

In Geneva, the UN rights office said Syrian officials responsible for carrying out or ordering crimes against humanity should face prosecution by the International Criminal Court.

The opposition Syrian National Council, meanwhile, said it expects to be recognised by several Arab states within days. So far only post-revolt Libya has recognised the umbrella group as its sole Syrian interlocutor.

Turkey also said it was open to a US proposal for a "Friends of Democratic Syria" group, an initiative that seemed to be gaining momentum on Friday.

A Western diplomat in London said that the 22-member Arab League was likely to launch such a grouping and appoint a special envoy to Syria at a meeting this weekend.