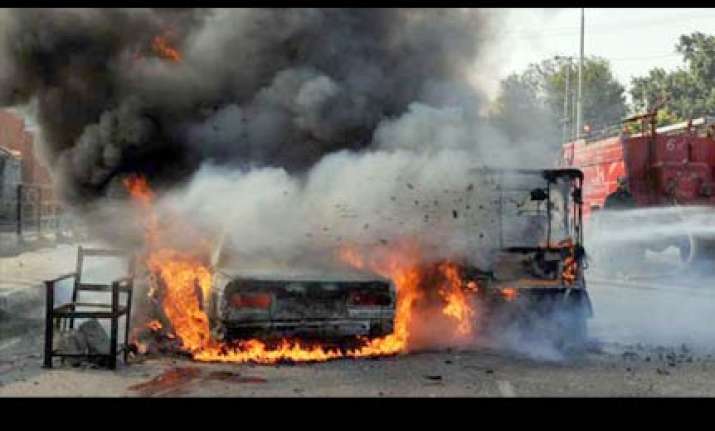 A suicide bomber struck a convoy of vehicles in northwest Pakistan on Friday , killing 12 people and injuring 30 others, including women and children.  The bomber detonated his explosives when the convoy was near a market in Thal area of Hangu district in the North West Frontier Province. 
"The suicide attacker, who was on foot, blew himself up near the convoy on Thal-Hangu Road near a petrol pump," said Kohat Commissioner Khalid Khan Umerzai.  Officials said 10 people were killed instantly while two others died in hospital.
Four women were among the dead.  Several women and children were among the 30 people who were injured. An emergency was declared in all hospitals in Hangu and Kohat.  The market in Thal was closed after the blast and security forces cordoned off the area.  The convoy that was targeted by the bomber was going to Parachinar, the main town of Kurram tribal region, which has been rocked by sectarian violence for more than two years. 
Three vehicles in the convoy were destroyed by the blast.  The convoy of vehicles was escorted by law enforcement personnel in view of the fragile security situation in parts of Kurram Agency and Hangu. 
Vehicles travelling to Kurram Agency from the NWFP usually move in convoys as militants have attacked solitary buses and trucks in the past.  The sectarian violence in Kurram Agency took a turn for the worse after Taliban fighters moved into the area and began backing Sunni tribesmen in clashes against Shia rivals. 
Hundreds of people have died in clashes between Shia and Sunni groups in Kurram Agency over the past two years.  The road to the tribal region was closed for many months because of the violence.  President Asif Ali Zardari and Prime Minister Yousuf Raza Gilani condemned the suicide attack. PTI