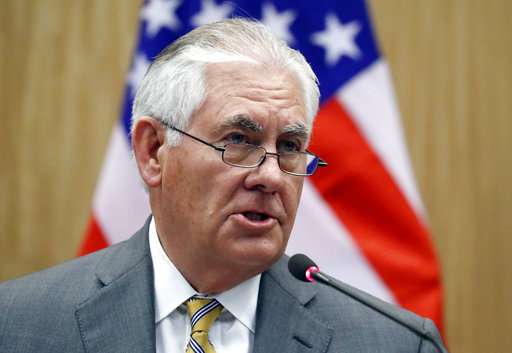 India and the US today warned Pakistan that the presence of terror safe havens there will not be "tolerated" and asked it to take action against terror groups, which the US said are now threatening the stability of the Pakistani government as well. 
The strong message to Pakistan came at a joint press conference by External Affairs Minister Sushma Swaraj and US Secretary of State Rex Tillerson after their comprehensive discussions on a range of key issues including H1B visa, situation in Afghanistan, Indo-US collaboration on security in the Indo-Pacific region and North Korea. 
"Terror safe havens will not be tolerated," said Tillerson while assuring full support to India in fighting terrorism. 
Noting that they had a detailed discussion on terrorism, which is a big threat to the entire world, Swaraj said India expressed its serious concern over increasing terror attacks in Afghanistan which showed that there were elements which were supporting and providing safe havens to terrorists. 
Swaraj said she and Tillerson agreed that India and the US have to ensure that no country should be able to provide safe havens to terrorists, and any country which provides support or uses terrorism should be held responsible.
"We also agreed that Pakistan should take immediate steps to eliminate terror safe havens. We believe that US President Trump's new strategy (for South Asia) can only be successful when Pakistan, without any discrimination, takes action against all terror groups," she said. 
The discussions were dominated by the US's newly-announced strategy on South Asia and security situation in Afghanistan with Washington favouring India's increasing role in the regional security architecture. 
Tillerson also noted India's constructive role in rebuilding Afghanistan through development projects.
"We are also concerned about the stability and security of Pakistan government as well as these terrorist organisation have enlarged their numbers, enlarged their strength and capabilities within Pakistan's borders that can lead to a threat to its own stability," he said.
So, it is in mutual interest that these terrorist organisations are not only contained but eliminated, and all should commit to eradicate radicalisation, Tillerson said.
He also said that there are "certain expectations" placed before the Pakistani leadership in Islamabad during his discussions yesterday on dealing with terrorist organisations as well as their leaders. 
Tillerson said he had "open and frank" talks with the Pakistan leadership over the concerns the US shared with its ally India and also Afghanistan that there were too many terrorist organisations which find safe place in Pakistan to conduct their operations and attacks on other countries. 
There is an attempt to put in place a mechanism of cooperation through information sharing but not just information sharing but also action taken to deny these outfits the ability to launch attacks against others, he said. 
The US wants to work with Pakistan in a positive way as this is in their interest also in longer term, the visiting leader said. 
Swaraj also said that India and the US will hold their first conference in December over the designations of international and local terror groups under a newly-formed mechanism. 
Tillerson described India as an "important player" in the implementation of Trump Administration's new strategy on South Asia. 
The US also look further cooperation in the broader Indo-Pacific region as both India and the US promote a rules-based and sustainable approach towards economic development, he said while noting that they are joined by Japan in this endeavour. 
Swaraj also said that she raised with Secretary Tillerson the issue of H1B visa, popular among Indian IT professionals, and asked him that the Trump Administration should consider "positive contribution" made by Indian skilled workers while taking any decision to change the provisions.