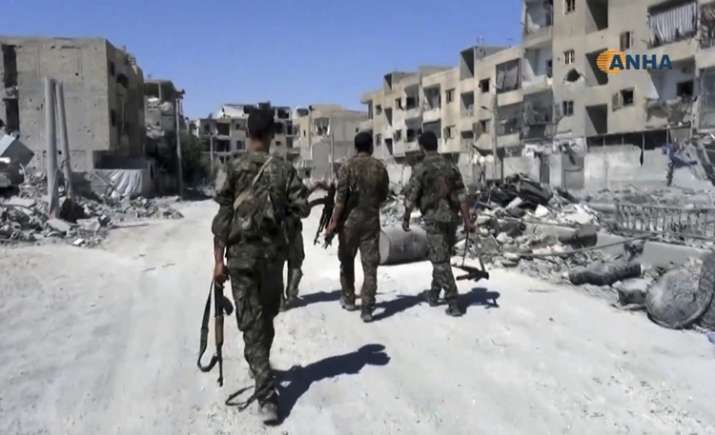 Syrian state media and opposition activists said today that airstrikes on the northern city of Raqqa have killed dozens of civilians. US-backed Syrian opposition fighters have been trying to capture the city from the Islamic State group since June 6, and have been fighting under the cover of airstrikes by the US-led coalition. 
The Kurdish-led Syrian Democratic Forces now hold more than half of Raqqa, the de facto capital of the extremist group's self-styled Islamic caliphate. 
The Britain-based Syrian Observatory for Human Rights said airstrikes in Raqqa on Monday killed 42 civilians, including 19 children and 12 women. The activist-run group Raqqa is Being Slaughtered Silently said 32 people were killed in airstrikes on one neighborhood alone. 
Syrian state media said the airstrikes killed dozens. They all blamed the US-led coalition. 
UN spokesman Stephane Dujarric said humanitarian staff in Syria are "deeply concerned by unconfirmed reports of a high number of civilians killed by airstrikes in Raqqa City over the last 24 hours." 
"These attacks, if confirmed, are a shocking reminder that civilians continue to bear the brunt of the conflict in many parts of Syria," he added. 
"In recent days and weeks, scores of civilians have been killed and injured in Raqqa due to airstrikes and shelling, and up to 25,000 people remain trapped in the city," he said.