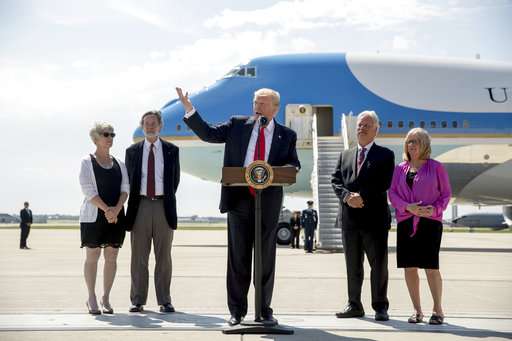 US President Donald Trump on Friday reported hundreds of millions of dollars in financial disclosure forms. 
Trump's income was reported in a 98-page disclosure form signed by the US president this week and made public by the Office of Government Ethics late Friday.
According to CNN Money, the report covers January 2016 through April 15, 2017.
Trump reported $288 million in income from his golf courses including $19.8 million from his club in Bedminster, New Jersey, where he has spent some weekends as president.
Trump reported $37.2 million in income in the past year from Mar-a-Lago, the private Florida resort where the President hosted his Chinese counterpart Xi Jinping. The club has doubled its membership fee in the past year.
The Mar-a-Lago income figure was $7.4 million higher than on his previous financial disclosure filing, in May 2016.
He also reported $19.7 million in income through mid-April at his luxury Washington hotel that opened last September.
Up to $7 million was reported in book royalties, including $1 million to $5 million from his book "Great Again: How to Fix Our Crippled America".
Nearly $11 million came from the Miss Universe pageant and an $84,000 pension from the Screen Actors Guild.
Trump brought in approximately $600 million to $650 million in employment assets and income. 
However, the documents have it impossible to calculate precise totals, according to the Office of Government Ethics.
Earlier this year, Trump had said that he sold all his stock holdings in June 2016 to avoid conflicts of interest and the form released on Friday appeared to confirm it.
Overall, Trump reported liabilities of at least $311 million in mortgages and loans. 
Trump last released information about his finances in May 2016, as a candidate. It showed Trump was worth at least $1 billion.
(With IANS inputs)