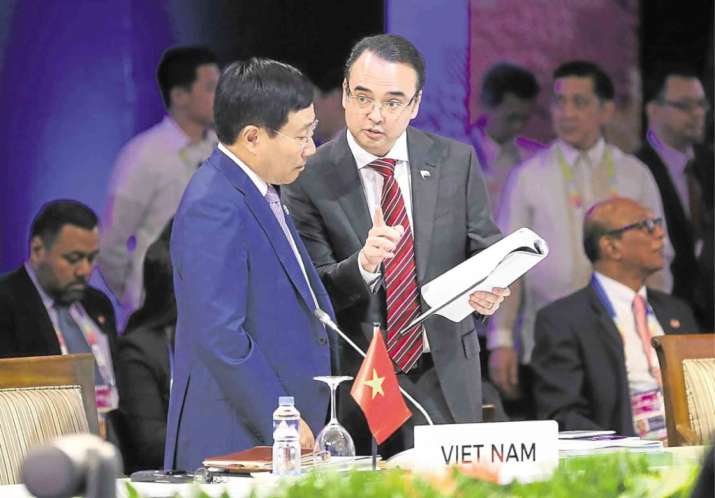 In the regional security forum, which began on Saturday, Vietnam has requested other Southeast Asian nations to take a stronger stand against China's continuous expansion in the South China Sea. 
Ahead of the launch of the annual gathering of foreign ministers from the 10-member Association of Southeast Asian Nations (ASEAN), Vietnam made a bold play against China with a raft of suggested changes to a planned joint communique. 
The 10 foreign ministers on Saturday approved a framework of a long-proposed code of conduct aimed at preventing clashes in the disputed waters, Philippine Department of Foreign Affairs spokesman Robespierre Bolivar said.
It set the stage for a fiery few days of diplomacy in the Philippine capital, with the top diplomats from China, the United States, Russia and North Korea to join their ASEAN and other Asia-Pacific counterparts for security talks from Sunday.
The meetings will take place as the United Nations Security Council votes this weekend on a US-drafted resolution to toughen sanctions against North Korea+ to punish the isolated regime for its missile tests.
The United States said it would also seek to build unified pressure on the North at the Manila event - known as the ASEAN Regional Forum.
However, the framework approved by the foreign ministers is said to serve only as a brief outline of previously agreed principles and fails to mention concerns over China's newly built islands or an arbitration ruling last year that invalidated Beijing's claims to virtually all of the South China Sea. China has refused to recognize the ruling, based on a 1982 maritime treaty.
After their own day of meetings on Saturday, Southeast Asia's top diplomats slammed North Korea with a sharp rebuke over its intercontinental ballistic missile tests and admonished Pyongyang to comply with its duty of helping avert conflicts as a member of Asia's biggest security forum.
ASEAN foreign ministers released a joint statement expressing "grave concerns" over the North's first two intercontinental ballistic missile tests that were conducted last month.
"These developments seriously threaten peace, security and stability in the region and the world," the statement said.
But on the South China Sea dispute - one of Asia's other top powder keg issues - there was far less consensus with Vietnam resisting efforts by the Philippines to placate Beijing, diplomats told AFP.
Vietnam on Friday night sought to insert tough language against China in an ASEAN statement that was scheduled to be released after the Southeast Asian ministers wrapped up their own talks on Saturday.
According to a copy of a draft obtained by AFP, Vietnam lobbied for ASEAN to express serious concern over "construction" in the sea, in reference to China's ramped up building of artificial islands in the disputed waters in recent years.
Vietnam also wanted ASEAN to insist in the statement that a planned code of conduct for the sea with China be "legally binding", which Beijing opposes.